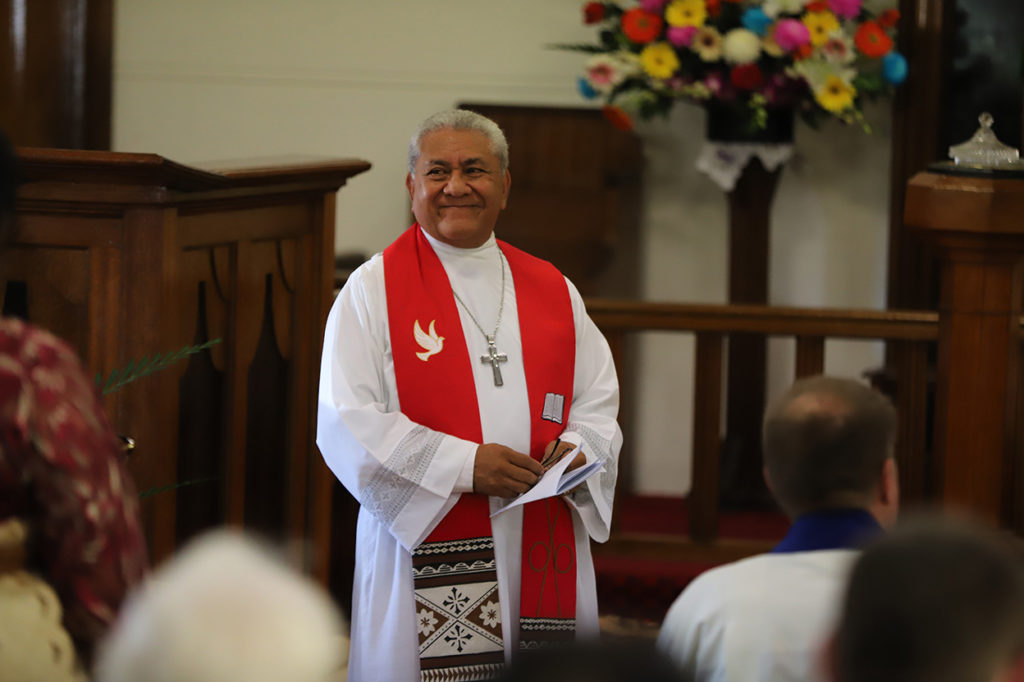 Sermon by Rev. Charissa Suli at the Induction of Rev Isileli Jason Kioa Induction Service, Saturday 9h February 2019, 3.00pm, Mascot Wesley UCA.
Readings: Isaiah 6:1-8, Psalm 138, 1 Corinthians 15:1-11, Luke 5:1-11
The Lord be with you!
I bring you greetings from the National Assembly office and I greet you in the name of our Lord Jesus Christ. I too acknowledge the Gadigal of the Eora Nation as the traditional custodians of the land on which we gather today.
When I received the invitation from Talatala Ravetali to preach at Faifekau Jason Kioa's induction today, I honestly can say that I felt like Isaiah for just a moment:
"Woe is me! I am lost, for I am a man of unclean lips, and I live among a people of unclean lips".
Who am I to take up such a task to preach at the induction of not just any man but we are talking about the Rev Jason Kioa who was thrown into Maribyrnong detention centre in 1983 and took on the Minister for Immigration in the High Court of Australia and helped grant a new law that allowed refugees for natural justice.
We are talking about a past moderator of VIC/TAS Synod and the former chairperson of the Tongan National Conference (TNC), of not two nor five years but 17 years and who sits and dines with the Royal Family of Tonga; past president of the Victorian Council of Churches, Chairperson of Bourke Presbytery, member Commission for Mission, a minister to four congregations in Melbourne and a current member of the Assembly Standing Committee.
This is the Jason Kioa who mentored nine years of my life as I led the 2nd Gen Team for the TNC and who also preached at my ordination 5 years ago.
And then I look out to the crowds and I feel even more "woe is me", Moderator NSW/ACT Synod, Associate General Secretary of the Assembly, past president of the Uniting Church, my mother even, and others/
So you can imagine the "WOE is me" I am feeling today.
But then I step out of my ego and go deeper into the biblical texts for today and I am reminded of God's steadfast love that calls all kinds of messy people. He calls you and he also calls me. Often, we get called to the place where God uses us best.
Of all the years I've come to know Jason and his family, he is a man who believes that all the barriers are down in the life of faith. Jesus Christ is for all men and women without distinction. I can assure you Mascot Wesley my standing here is a reflection of Jason who sees no limits to the love of God being proclaimed by all of God's people.
It is a humbling privilege for me to break open God's word as we hear together what God has to say to Mascot Wesley, Rev Jason and Fotolina Kioa and all of us here today as a new journey begins in this place.
Isaiah's Call
The Old Testament passage is an account of Isaiah's call to ministry. Isaiah's encounter with God was an example to the ancient Judahites, for if even one of the holiest men in the nation needed pardon and cleansing (vv. 4–7), how much more did the common people need the same? They needed to return to trusting in the Lord and not false gods or foreign powers, and to acknowledge their wrongdoing.
For young Isaiah, the outlook was bleak. His beloved king had died, his nation was in peril, and he could do very little about it. It was a time of grief, uncertainty, and national crisis. Isaiah carried the weight of the nation in his soul as he entered the temple that day with a heavy heart.
We are told that God revealed Himself to Isaiah in the Lord's heavenly temple in a vision, the prophet saw the Creator seated on His throne. Seraphim surrounded the divine throne, hovering and singing praises to the Lord.
It is there that Isaiah has an experience of God that became for him a transforming moment, a life-changing experience.
Isaiah's reaction of seeing God causes him to realise his own inadequacy, his unworthiness to stand in the presence of God.
Touching Isaiah's lips with the coal from the altar, the seraph says, "Now that this has touched your lips, your guilt has departed, and your sin is blotted out." Then Isaiah hears the voice of the Lord saying, "Whom shall I send, and who will go for us?" Isaiah responds, "Here am I; send me!"
That day in the temple Isaiah encountered the splendour of God; he realised his own unworthiness; he experienced God's forgiveness; cleansed by the burning coal a symbolic act of God's cleansing and purifying grace. Isaiah was set free from his sin and unworthiness and was ready to surrender to God's call.
In this call of Isaia, repentance and forgiveness is offered and given by God. All of us are in need of God's cleansing and purifying grace to begin any new adventure we embark on.
Walk on Country Cleaning
Three weeks ago I had the privilege of walking on Ngarrindjeri country with the president Dr Deidre Palmer and 20 young adults from across our nation in Adelaide. Sean Weetra and Uncle Ken Sumner welcomed us to their country with a smoking ceremony.
What was significant for me was the GRACE offered to us as we arrived as strangers not knowing each other or our hosts knowing who we were. They welcomed us with generous grace onto their land but we were asked to do one thing.
Uncle Sunmer invited us to come forward to the burning smoke and to wave it over us and cleanse the past for a better future and take a branch and place it in the fire as a symbol of cleansing, of warding off bad spirits and laying down any negativity we bring so that we could start the journey as a new people, renewed and forgiven.
Like Isaiah, and the Ngarrinjeri people, "Repentance and Forgiveness" will be key for you Mascot Wesley and Rev Jason Kioa as you prepare yourselves to ward off the bad spirits and any negativity you bring to carry out your calling from God with eagerness and urgency as the one body of Christ.
Koe me'a pe taha 'oku ma'u 'a e anga mo e ivi moe poto 'oku taau mo e muimui kia kalaisi ko 'etau ilo'i 'a e KELESI kuo foaki mai 'ehe Otua kiate kitautolu.
CALL
A call upon a person's life from God is often unexpected and can come in many different ways and situations. Each of you here today have your own call story to ministry, to parenthood, to becoming a teacher, a mechanic or the call to leave your island of Tonga or Niue behind and begin a new journey in Australia.
I recall Jason sharing his call story to ministry with me. He never dreamed of being a minister. He was the social butterfly in his younger days, the outgoing and life-of-the-party type of guy. His background is PR. He was a public relations officer in Tonga. But his call to ministry came out of a time of great darkness, loss and pain. When he was arrested and thrown into the detention centre. He made a bargain with God that if he got out, he would serve the church for the rest of his life.
Two decades later and here we are inducting Rev Jason into Mascot Wesley in a whole new Synod. I'm sure he and Fotolina never dreamed their call to ministry would pluck them out of the comfort of their home in Melbourne to the waters of Mascot Wesley.
Living Your Call
Isaiah continues his call and the road ahead is a difficult one for the prophet. The life of a Hebrew prophet was not an easy life. The message and choices we make in living out our call may also bring misunderstanding, resistance, or rejection from people around us.
Responding to the call of God is not always easy for us as a Church. It can be difficult to live out God's call in our lives because of competing schedules in the world, or the disunity in the church, doctrinal problems, and maybe for some they're just so tired, discouraged and beaten down.
Now tired, beaten down and discouraged is something the disciples in Luke's gospel know all too well about.
5 Once while Jesus[a] was standing beside the lake of Gennesaret, and the crowd was pressing in on him to hear the word of God, 2 he saw two boats there at the shore of the lake; the fishermen had gone out of them and were washing their nets.
Our gospel passage introduces us to Luke's account of the call of the first disciple, Simon.
The crowds are pressing in on Jesus to hear God's word. They won't leave Jesus alone.
Jesus encounters fisherman who had an unfruitful night on their fishing expedition and who are now cleaning their nets before putting them away. Tired fisherman who have been out all night and haven't caught a thing. They're minding their own business, literally, just trying to clean their nets and head home after a long and discouraging night, but Jesus asks one of them, Simon, if he could use his boat.
3 He got into one of the boats, the one belonging to Simon, and asked him to put out a little way from the shore. Then he sat down and taught the crowds from the boat.
Jesus gets into Simons boat and asks him to put out a little way from the shore in the shallow part of the lake.
Kole e Sisu kia Saimone ke ne tukutuku si'i atu mei 'uta 'ene vaka: pea ne nofo hifo 'o fai 'ene ako ki he kakai mei he vaka.
Koe taimi koe oku pehe ai 'ehe tangata moe fefine kuo ne a'u kihe ngata'anga 'ene mo'ui oku hu mai 'a Sisu ke fai hono fakamo'ui 'a hono kakai.
Into this context, where men and women come face to face with their limits and give up, Jesus enters and asks the men to push one of the boats away from the beach. Jesus initiates the relationship by asking a small favour of them.
Jesus sits down to teach, as rabbis did in those days. No microphones, no laptops, no iPads or even books to work with, no Facebook live to show the world. Just an amazing teaching moment.
4 When he had finished speaking, he said to Simon, "Put out into the deep water and let down your nets for a catch."
We don't know what Jesus says to the crowds. Luke doesn't record it. But what we do know is that Jesus tells Simon, to go further out a second time into the water, "Put out into the deep and let your nets down for a catch."
Toe tala'ange e Sisu kia Saimone ke, "Tuku atu ki he moana, pea 'a'au homou ngaahi kupenga ki ha ika".
Mou manatu 'oku lolotonga fo 'e Saimone 'ene kupenga pea 'oku 'ikai ke toe laka ha 'ilo ha taha kihe toutai ka ko Saimone he ko Sisu koe foha 'ia 'o e tufunga pea tali 'e Saimone:
'ēī, ko e pō kātoa mo 'emau ngangau, 'o 'ikai ma'u ha mata'i ika: ka 'i ho'o me'a te u 'a'au pē 'a e kupenga.
I can hear Simon is annoyed and he responds to Jesus who remember is a carpenter's son not a fisherman's son. Simon responds, 5"Master, we have worked all night long but have caught nothing. Yet if you say so, I will let down the nets."
Simon responds with obedience. Koe tali a saimone na'e fai kia sisu, koe mo'ui talangofua neongo na'e 'ikai ke loto ki ai.
Jesus does that to us. Often Jesus asks us to do things that are annoying or inconvenient. There are times when we don't want to hold the hand of a sick person or share a meal with a homeless person or say we're sorry when we're wrong.
But yet when we do the things that Jesus asks of us to do the result is amazing abundance.
6 When they had done this, they caught so many fish that their nets were beginning to break. 7 So they signalled their partners in the other boat to come and help them. And they came and filled both boats, so that they began to sink.
We know what happens next: Simon catches so many fish that he signals to the other boat to come and help them and now both boats start to sink from the enormous catch!
Wow! Another boat is called over and they share the abundance. What abundance do we need to share in our various ministries and who is in the other boat that we need to call in to be part of this ministry together?
8 But when Simon Peter saw it, he fell down at Jesus' knees, saying, "Go away from me, Lord, for I am a sinful man!"
8 Pea 'i he sio ki ai 'a Saimone Pita, na'a ne hinga atu ki he tui 'o Sīsū, 'o ne pehē, Me'a atu, 'Eiki, mei hoku vaka, he ko e tangata angahala au.
Ko 'eni 'a e vete angahala 'oku fai 'e Saimone Pita 'I he 'ene sio kihe fu'u mafi 'a e Otua pea hange koe palofita ko Aisea 'oku ne 'ilo 'ae ta'e taau 'ene mo'ui 'I he ao 'o e Otua.
9 For he and all who were with him were amazed at the catch of fish that they had taken; 10 and so also were James and John, sons of Zebedee, who were partners with Simon. Then Jesus said to Simon, "Do not be afraid; from now on you will be catching people."
Pea tali 'e Sīsū kia Saimone, 'oua 'e manavahē; mei he taimi ni te ke hoko koe toutai tangata.
Omi 'a e ongo vaka ki uta, o nau li'aki ae me'a kotoa pe 'o muimui kia Sisu.
Ka mou sio kihe mohu kelesi 'a Kalaisi he neongo pe koe ha 'ae vete angahala na'e fai e Saimone na'e 'ikai ke toe veiveua 'a e ui 'a Sisu 'a Saimone ke ne hoko koe tokotaha 'e toutai tangata.
Pea koe anga pe 'ia 'ae ui 'a e Otua oku 'ikai tene 'ui 'a e ma'oni'oni ka 'oku toutou 'ahia 'e Sisu 'a e kau angahala pea oku ha'u kihe kakai 'oku nau fie ma'u 'a e tokoni, 'oku nau fie fanongo kihe folofola 'a e otua, 'oku nau fiema'u 'ae fakamolemole 'a e Otua.

Koe fekau mahu'inga 'eni kia kimoutolu Mascoti kae uma'a 'ae faifekau. Kapau 'oku 'i ai ha tala'a i ho'o loto, tuku'atu kihe loloto 'o e moana pea ke li atu homou kupenga he kuo toka teu 'e he Otua ha lele'anga fo'ou ke faka'ivia kimoutolu ke mou fai 'a e ngaue fo'ou ma'ae pule'anga 'ae Otua.
Jesus responds with pure Grace to Simon Peter, "Do not fear, do not be afraid, from now on, you're going to be fishing for people."
11 When they had brought their boats to shore, they left everything and followed him.
Peter, James and John walk away from their boats, their sources of livelihood and security; they leave everything to follow Jesus.
Jason as you minister here, I encourage you to continue to listen to the call of God. To listen to what Jesus is commanding you to do in this place. How is Jesus calling you to go deeper into the waters and widen your net of abundant grace and liberating hope here in Mascot Wesley?
You will find plenty of challenge, plenty of possibility, and a very clear call to serve right here, where you are. But also look around and make sure there's room in your boat for others who are not in the boat and need to hear God's abundant grace and liberating hope.
As you know in God's love – a love we're called to share with everyone – there is more than enough for each and every one of us. There is more than enough forgiveness, more than enough healing, more than enough grace and it is that love that will sustain you and Fotolina as you minister and love God's people.
And to you the people of Mascot Wesley who have called Jason here to minister with you. He does not come alone he brings his wife Fotolina to journey with you too. DO NOT FEAR. Whatever has troubled your hearts in the past, do not be afraid as God sets you on a new course and empowers you for new work in the kingdom. Let this story of Isaiah and Simon be an important reminder to you to be listening to the voice of God also and follow where God is calling you as a congregation.
Listen together with Jason to hear what it is that God is calling you all to, to discern the voice of God together, from now on you will be fishers of people.
Sometimes it's going to be hard to hear or discern what God is saying. Sometimes voices of tradition and culture can get in the way of hearing God's voice.
There might be times when you may not want to hear what is being said, it may mean letting go of things that you have always done in order to move forward. I encourage you, take the risk as Simon did even though you may be tired, disappointed and spiritually worn out.
lLet down your nets today, tuku hifo ho kupenga kihe loloto 'o e moana, 'ae ng. kupenga 'oku fiema'u 'a e fakamolemole 'o e Eiki, let down those nets that are in the way of seeing God's abundant grace and liberating hope.
Psalm 138 says, "the lord will fulfil his purpose for me", we are all called to be part of God's purpose. Not just Jason and not just Mascot Wesley but all of us. God works God's purposes through all of us. Let us remember that, in the church, we are never alone. We take these daring, risky steps, together. We see today how all councils of the church are here together.
So, let us together exercise our imagination, and our courage, and our trust, to live in radical openness to God's hand at work in our lives and all around us. You see, the fishing for people continues. God has chosen to work through we human beings, we vessels of clay and because God has chosen to work this way, it is crucial that we be alert to God's call and obedient in response to that call. Someone has once said that "Jesus still shows up and surprises us," and next thing you know, our lives are changed forever, in the name of the father and of the son and of the Holy Spirit, Amen.