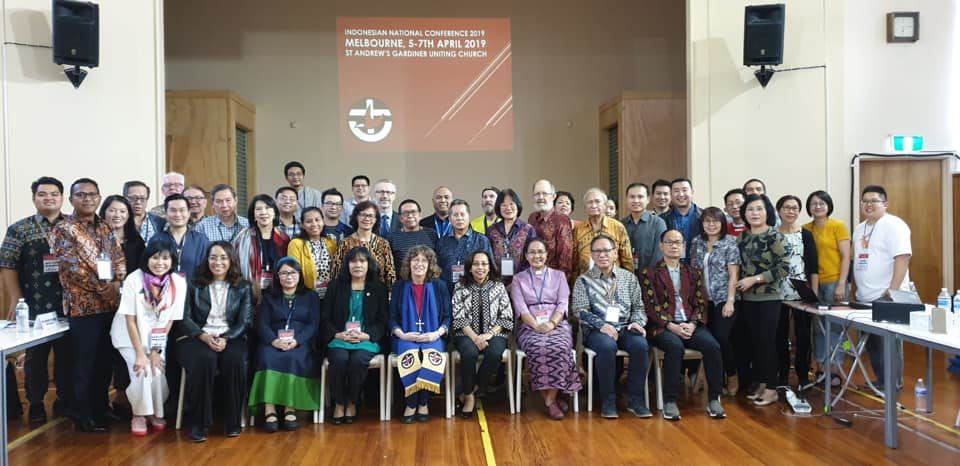 By Alfian Oematan, Secretary of the UCA Indonesia National Conference
The 14th Indonesian National Conference (INC) took place on 5th-7th April 2019, at St Andrew's Gardiner Uniting Church, Melbourne.
The theme was, "Blessed to Bless". We really feel God's blessing on us as an Indonesian congregation in the Uniting Church in Australia, but it cannot just stop at ourselves. This blessing must be used responsibly to make a positive and constructive impact within the UCA, as well as for Australia and Indonesia.
A highlight of the 14th INC was having the largest number of UCA staff and leaders present with us, including President Dr Deidre Palmer, Associate General Secretary of the Assembly Rob Floyd and National Consultant Rev. Charissa Suli.
For the first time, this year's INC produced recommendations on the important issues within each congregation and also across all Indonesian churches around Australia in the Uniting Church.
These important issues are:
Second Generation: The increasing number of younger members born and growing up in Australia, where both their culture, and their language are more influenced by the Australian culture as compared to Indonesian. This is one of the biggest challenges for the Indonesian congregation, and we are yet to have designated team and thoughtful planning to minister to this generation. While in fact it is important to note that they are the future of each congregation and also for the UCA.
Development: Quantity wise, it could be ascertained that the number of congregation is reasonably stagnant, with the tendency to decline. There is no strategic and visionary effort to develop this in number. For instance, by opening new church posts. Even if there is an effort, it is more of a personal and sporadic initiative.
Affirmation of attitudes towards the issue of Same Sex Marriage. Regarding this issue, since the Assembly's decision in July 2018, there has been an attitude statement from each congregation, but it is still local. There is a need to have one voice in this matter. Therefore, we are no longer formulating, but asserting.
Our time together provided the opportunity for Indonesian churches under UCA to meet together and to share with each other and to provide an update on the development and struggle of each congregation.
We thank all who are responsible for the INC and the effort given to continually improve the quality of conference. We look forward to the 15th INC to be held in Darwin in 2020.