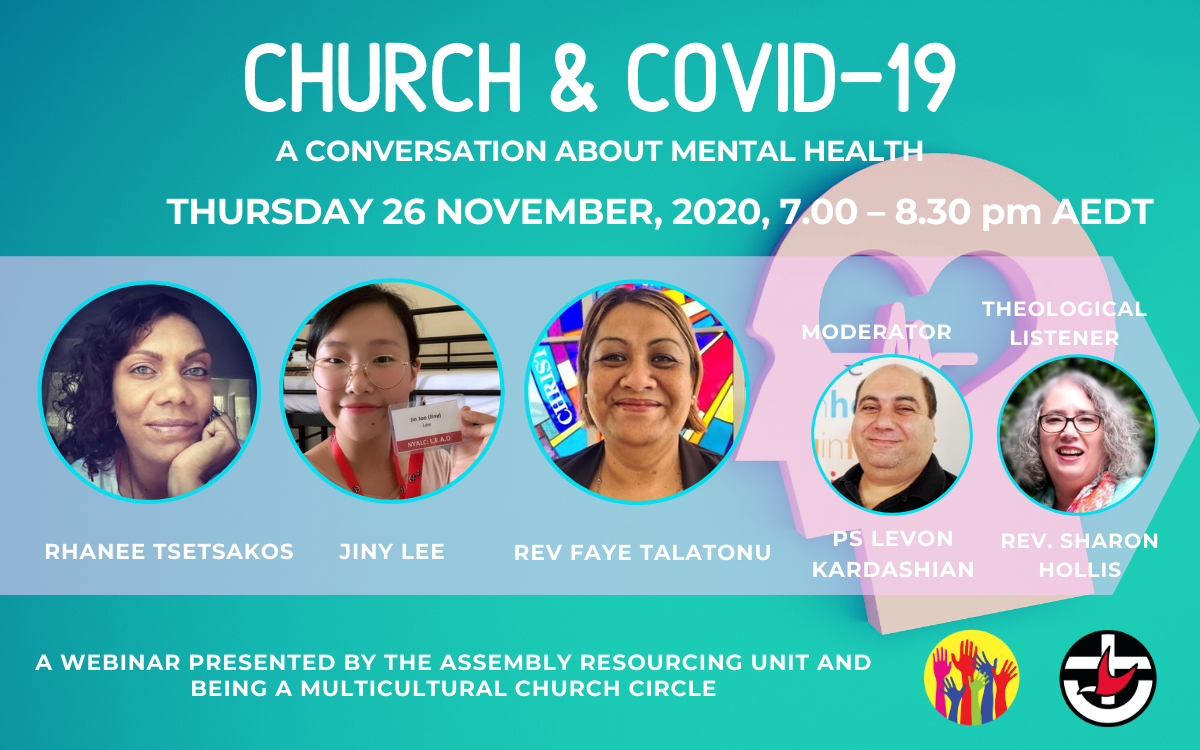 Join the Being a Multicultural Circle and Assembly Resourcing Unit for our final webinar of 2020 looking at the Church and COVID-19.
The topic of this webinar is Mental Health. Our speakers will explore how we take care of our mental health in the midst of the pandemic and share experiences from their own faith and cultural contexts.
The webinar will take place on Thursday 26 November from 7-8.30pm AEDT.
Our speakers will include:
Panellists:
Rhanee Tsetsakos
Jiny Lee
Faye Talatonu
Theological Listener: Rev. Sharon Hollis
Moderator: Ps Levon Kardashian
After registering, you will receive a confirmation email containing information about joining the webinar.
Learn more about our panel below
Rhanee Tsetsakos
Rhanee is an Adnyamathanha Yurartu from the Northern Flinders Ranges in South Australia, and is a leader within the Uniting Aboriginal and Islander Christian Congress. After publishing her first children's book Walking to Corroboree (with Anne Kerr) in 2017, Rhanee setup her own business 'Yura Manda' as an Indigenous Storyteller and Cultural Educator. She uses this as a tool for engaging with the wider community to tell the story of Australia's true history to children and their families in a gentle and caring way. She is passionate about being a strong connection and support for Aboriginal and Torres Strait Islander people and non-indigenous people to establish and build genuine relationships between each other. Rhanee currently resides in Tarndanya (Place of the Red Kangaroo) now known as Adelaide, Traditional Lands of the Kaurna people.
Jiny Lee
Jiny Lee is a Korean-Australian young adult and a member of the Cornerstone Ministry, an English speaking community part of the Korean Church of Melbourne. As an active leader in her congregation, she is passionate about building a community for and led by emerging generations. She completed her Bachelor of Science, majoring in Psychology and completed an Honours thesis in Sleep Psychology. She has worked in various health projects in hospitals and research institutes and is currently working in supportive care research for people with cancer.
Rev Faye Talatonu
Faye Talatonu was born in New Zealand and is a second generation Samoan who moved to Brisbane, Queensland at the age of nine. Faye is a Minister of the Word and has served in UCA congregations in Brisbane and rural Queensland. She has worked in roles walking alongside youth, children and young adults and chaplaincy roles in aged care and prison ministry. She is passionate and brings experience in equipping and mentoring Second Gen leaders within the Presbytery, Qld Synod and the Samoan National Conference through being part of planning committees and leading in those spaces. Faye is passionate about the church being an intergenerational church that continues to seeks ways to bridge the gaps within the different cultures and ages and to unite in the gifts of who God calls us to be through listening and sharing of what we each bring to the table. Faye is currently serving as the minister of Ashmore Uniting Church Gold Coast, Queensland.
Theological Listener:
Rev. Sharon Hollis
Sharon is a Minister of the Word who has been ordained for 25 years. She has served in congregations, as Continuing Education Coordinator, Moderator and currently as the Culture of Safety Resource Minister, all in the Synod of VIC/TAS. One of the things Sharon focused on during her time as Moderator was promoting discussion and deeper understanding about Mental Health and Mental Illness. This interest arises from her experience as the partner of someone who died as result of mental illness as well as having been a carer and supporter of family members with mental illness and seeing the sometimes wonderful support people in the church provide and the sometimes damaging misunderstanding of mental health and mental illness in the church. Sharon is the President-elect of the Assembly and will be installed as President in July 2021.
Moderator:
Ps Levon Kardhasian
Levon was born in Beirut Lebanon and he is of Armenian origins. He studied engineering, marketing and management and IT. Before starting his studies in theology, he worked in graphic design and publishing. His first placement was in a country parish on the border of Syria and Turkey. After moving to Australia, Levon did further theological studies and got involved in cross-cultural ministry. Levon has worked with refugees providing pastoral care, and was the domestic violence awareness project officer of the Social Justice Forum with Uniting NSW. Currently he is the multicultural project officer for the South Moreton Presbytery in the Synod of Queensland.