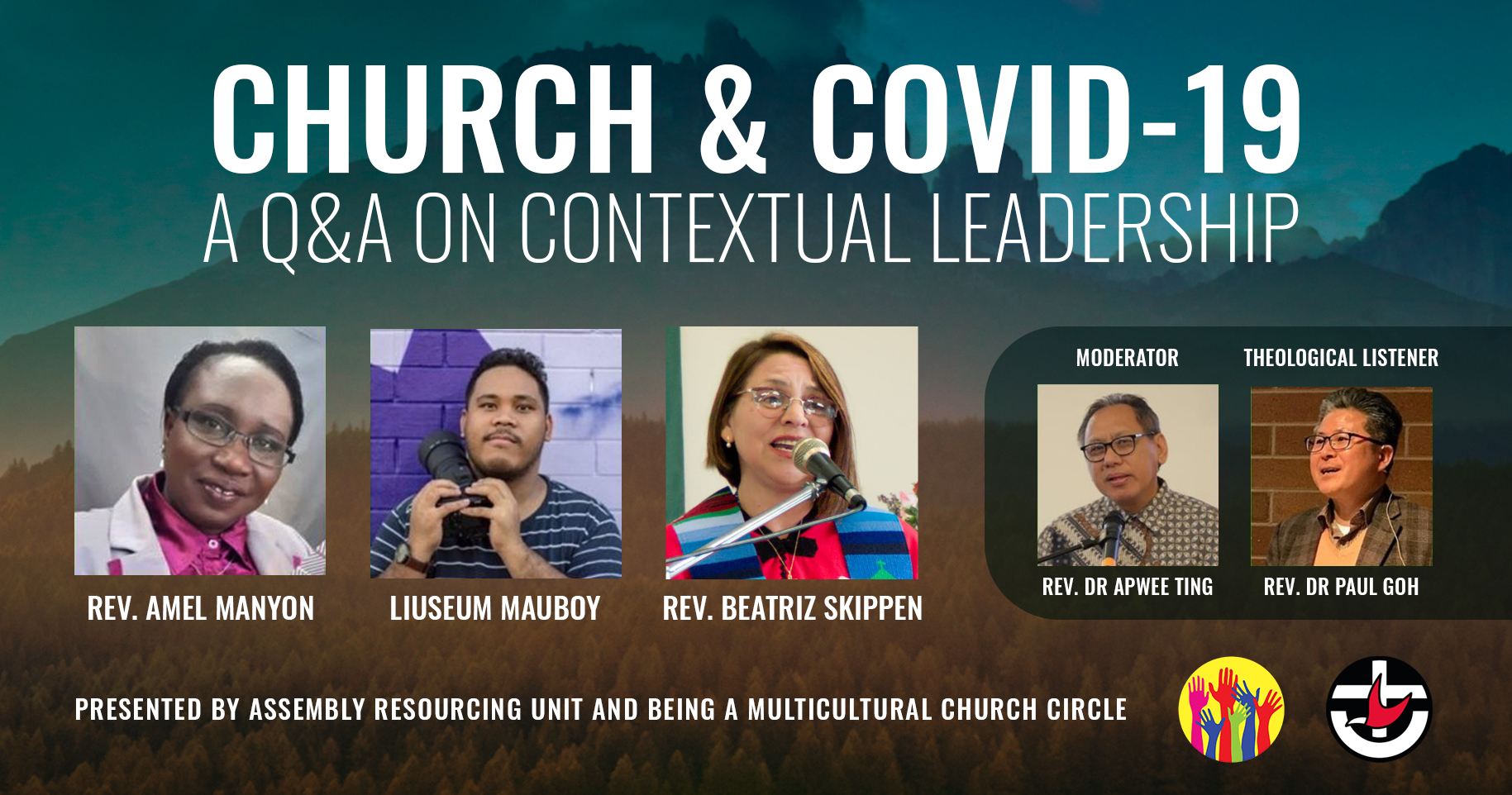 Join the Being a Multicultural Circle and Assembly Resourcing Unit


for our fourth webinar looking at the Church and COVID-19.
The topic of this webinar is Contextual Leadership. Panellists will take part in a Q&A on the type of leadership needed right now in the Church in the context of the COVID-19 pandemic.
The webinar will take place on Thursday 24 September from 7-8.30pm.
Our speakers will include:
Panellists:
Rev Amel Manyon
Liusem Mauboy
Rev Beatriz Skippen
Theological Listener: Rev. Dr Paul Goh
Moderator: Rev. Dr Apwee Ting
After registering, you will receive a confirmation email containing information about joining the webinar.
Learn more about our panel below
Rev Amel Manyon, Australian-South Sudanese Context
Amel is the first South Sudanese female trained, ordained and minister in the Uniting Church. She is the chairperson for UCA South Sudanese National Conference. Amel is the founder of faith community for Dinka-speaking South Sudanese in the northern suburbs of Adelaide in 2012, which currently became South Sudanese Uniting Church congregation in 2019. On Sunday 7 July 2019, Amel was inducted as the Dernancourt Uniting Church minister in Adelaide. Amel has been known as a compassionate leader in the wider community and involved in peace and reconciliation process for South Sudanese people here in Australia and South Sudan. She has travelled extensively around Australia, visiting the Pacific and attending Asian Women Leaders Conference in Taiwan (organised by Christian Conference of Asia).
Liusem Mauboy, Second Generation Australian–Indonesian
Liusem was born and bred in Darwin growing up surrounded by the vast multiculturalism that can be found here. From 2015 to 2018, he spent some time in Adelaide at Flinders University. While there Liusem was elected as college president, and was in charge of a small team of people. He has been a youthful member for Assembly in the previous two Assemblies. Currently, Liusem is the Media and Communications person for the Northern Synod.
Rev Beatriz Skippen, Australian - Ibero Latino Context
Beatriz (Bea) was born in Buenos Aires, Argentina. She started her training in mission and ministry in Argentina from 1976 to 1981, and had the opportunity to work in Buenos Aires with youth, women and church planting. After this she went to Paraguay in church planting, then to Colombia in Bogota and the Amazon Jungle with New Tribes Missions and WEC. Bea also served in Brazil, lecturing in Jovenes da Verdade in partnership with McKenzie College, and also revitalizing churches with the Presbyterian Church Independent & Presbyterian Church of Brazil. In 1991 she came to Australia at the invitation of the Presbyterian Church in Victoria to work as a prison chaplain and also Church planting with Portuguese and Spanish communities. Bea worked as a prison chaplain in Pentridge, Metropolitan and Fairlea Prisons. In Victoria she also worked as a hospital chaplain in Sunshine Hospital. In Queensland, she has worked in Aged Care in Hopton Aged Care Facility with the Presbyterian Church. In 1997 Bea journey started with the Uniting Church in Queensland, then from 2005- 15 she led UnitingCare Prison Ministry as Senior Chaplain/State Coordinator. After this she was in Aged Care Chaplaincy with Wesley Mission Qld. Since 2016 Bea has been the minister at Bulimba Uniting Church. Her leadership style is to equip, empower, and release, and passionate to see others flourish and to identify their gifts.
Theological Listener:
Rev. Dr. Paul Goh, Mission Resourcing South Australia Synod
Paul is Korean-Australian Uniting Church minister and currently working with the Synod of South Australia's Mission Resourcing team in the areas of Justice and Multicultural and Cross-Cultural ministry. He has had diverse ministry experience in Korea, the USA, and Australia including pastoral ministry with Korean diaspora, Anglo-multicultural and Fijian congregations in Melbourne. Paul wrote his Ph.D. dissertation about Christian evangelism in relation to interreligious dialogue at Boston University School of Theology.
Moderator Rev Dr Apwee Ting, Assembly Resourcing Unit
Apwee is one of the National Consultants Assembly Resourcing Unit and brings a strong understanding of what it means to be a multicultural church and to live out the Christian faith inter-culturally. Apwee was a member of the Assembly's National Reference Committee for Multicultural and Cross Cultural Ministry for 12 years including three years as Chair (2006-2009). He also held a specific role of liaison with the Assembly's Relations with other Faiths Working Group. Apwee is a former Chairperson of the UCA's Indonesian National Conference. He was a Minister of the Word at Dandenong Uniting Church in Victoria, in one of Australia's most culturally diverse and multifaith communities. The congregation includes Fijian and Hindi speaking ministries and is also home to Christian communities whose cultural heritage is Arabic, Ethiopian and Cook Islands.