A tribute to Neryl McCallum
Originally published in the June/July edition of New Times, Synod of South Australia
written by Dr Deidre Palmer, Ex-President, Uniting Church in Australia Assembly
Neryl McCallum lived a remarkable life and made a life-giving difference to many of us, and to the life and mission of the Uniting Church. She was a youth worker in the early days of the Uniting Church, and continued to contribute to its shaping through her passion for justice, her participation in the creative work of God, and her generous offering of her many gifts.
I had the privilege to work with Neryl through the National Assembly of the Uniting Church, when she served as Executive Assistant, during my time as President of the Assembly (2018- 2021). It has been a joy to share in life, friendship and ministry with Neryl. Her creativity, insights on the world and her ability to create sacred spaces, have been a gift to our lives.
Neryl's beautiful visual art, her moving words in poetry and prayer, her ability to organise events and people, with grace, hospitality and humility are gifts of the Spirit that she has shared so generously with us all.
Neryl was a person who attended to organisational details, relational networks and practical hospitality so the Christian community could be encouraged, inspired and strengthened. Neryl was involved in planning and supporting national events, including:
National Young Adult Leaders Conference 2019
President's Conference in Fiji in 2019
President's Conference online in 2020 and face-to-face in Adelaide in 2021
Meetings with the Moderators and President
Uniting Women 2016 in Adelaide
Many Uniting Church members across Australia, remember Neryl from these national gatherings. They have commented on her warmth, her creativity, her care and interest in their stories of life and faith.
Neryl loved the people of the Uniting Church and embodied our commitment to justice and hope. We deeply grieve her passing. We give thanks to God for her amazing and full life, and the community in Christ we share. Our prayers for peace and comfort are with her family and friends.
Neryl wrote this Call to Worship for our South Australian Synod worship in 2013. It reflects her understanding of the abundant love of God, that shaped her life and service to Christ:
Call to Worship
No matter who we are,
Regardless of where we have been,
or what has happened to us along our way,
At each and every moment God reaches out to us with arms wide open in welcome
And says: 'Ah, here you are, I have been waiting for you. I am overjoyed that you have come.'
And so it is that today as we come to worship and pray
we are held steadfastly in God's warm embrace.
(Create – prayers, songs and other resources, p.18 (2017) by MediaCom Education, The Centre for Music, Liturgy and the Arts.)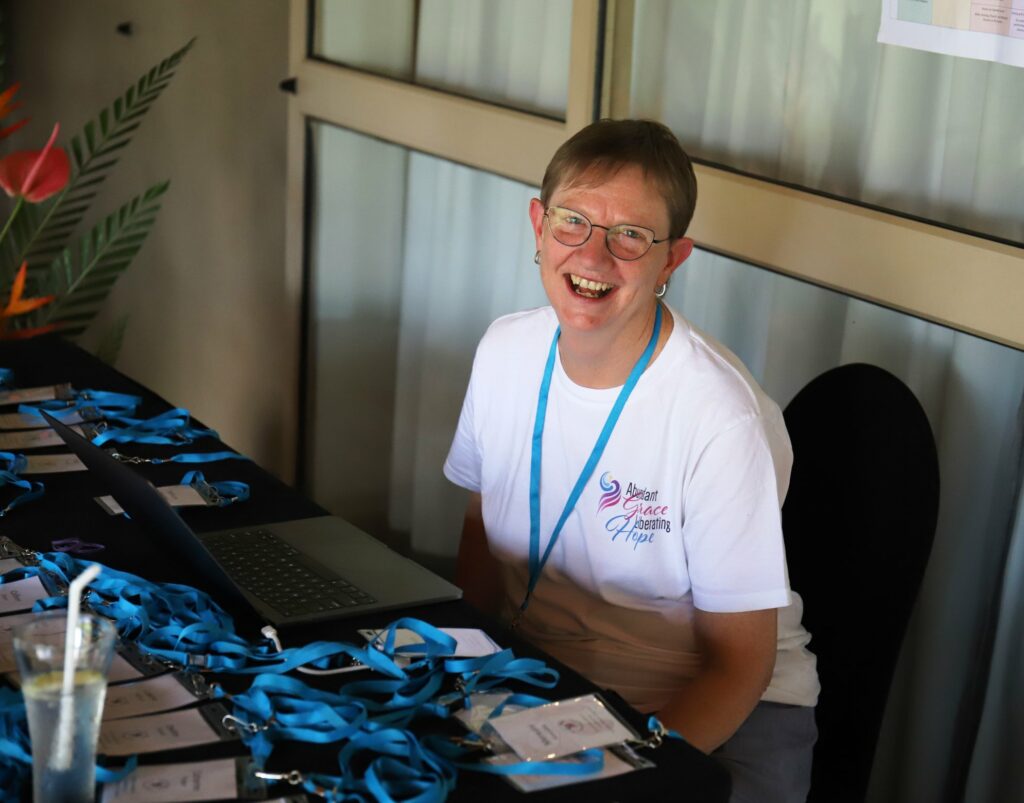 This image (above, centre) was taken at Belair Uniting Church at its 2022 Good Friday service. The congregation crushed flowers and brought them to the feet of the Jesus sculpture as a symbol of the fears, regrets, sins that crush us. On Easter Sunday everyone in the congregation was given a fresh flower as a symbol of resurrection life. Sculptor: Neryl McCallum