This is my Uniting Church
Proserpine Whitsunday Uniting Church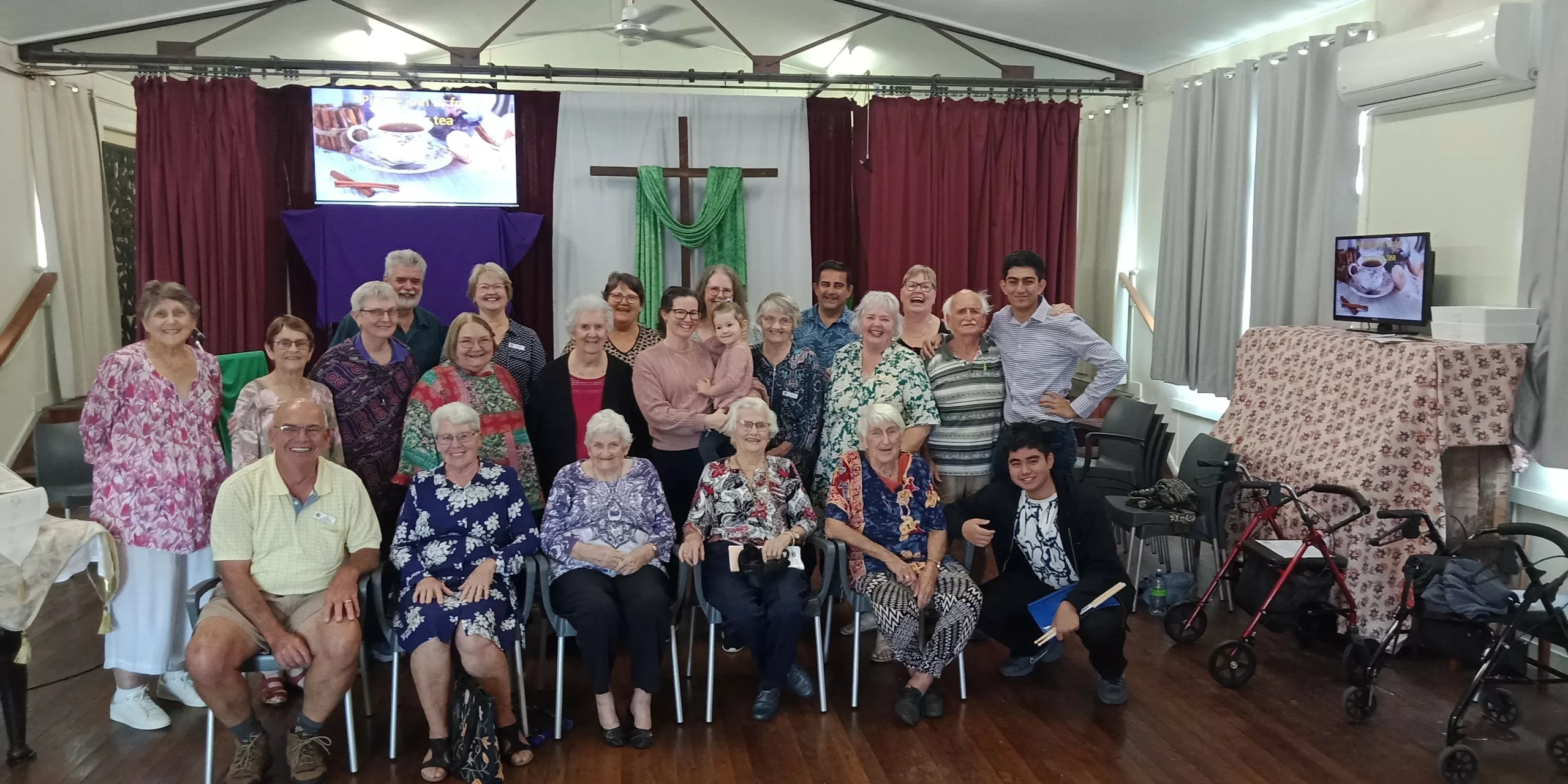 "We really ARE a church family. Troubles are shared, joys are celebrated together and faith grown in groups."
Subscribe to our newsletter
If you want to get the latest news from the Uniting Church in Australia then subscribe to our weekly newsletter delivered to your inbox.
Tell us a little bit about your church community?
In the blessedly beautiful north Queensland town of Proserpine lies an empty corner block in the heart of the town. Since 1899, a Church has stood on that site, but now only an old Church Hall. On Sunday mornings, that very hall bustles as we ready for worship and the sounds of hymns, praise and laughter reverberate. Our congregation is wide in age, ranging from great-grandparents to a toddler or two and we celebrate them all. All have amazing hearts. The atmosphere is joyous and warm.
We worship in Proserpine and also in the nearby coastal Cannonvale, where we share St Martin's with the Baptist, Catholic and Lutheran congregations. Our two worship centres are one congregation – Proserpine Whitsunday Uniting Church. At times, we join together for combined services and activities.
Lunch once a month is a joyful, caring and bonding activity. Laughter, stories and friendship are shared over the table as we enjoy a meal after Church.
We really ARE a church family. Troubles are shared, joys are celebrated together and faith grown in groups. Individuals are encouraged and nurtured on their walk with Christ. We listen, learn and grow - as the Proserpine Whitsunday Uniting Church - many but one.
What are some of the things happening there that are really exciting for people?
Our current excitement is that we are rebuilding! That empty block will once again house a Church - and our congregation, and our community, rejoice at the thought. We are fundraising to make this happen. The Church is a vital part of our community, not just for our congregation, but for many others who have generation-long connections that are much valued.
3FJ is a family church activity that happens once a month and is growing slowly! Family, Food and Fun with Jesus is exciting for all ages and everyone.
Our annual Flower Show in September is always a time of wonderful community connection and fellowship as we work together. It's a time of joy as people enjoy food, flowers, entertainment, the fete and time with friends. We are blessed to share this event each year with a wonderful community.
We have had a few new members join us this year and that is always exciting! The sound of a toddler loudly saying 'Amen' or laughing quietly during our service, the sound of a mother proudly introducing her visiting daughter, the sound of a microphone as we welcome a Zoom audience. There is much that is growing and changing and we celebrate it all.
What energises the faith of this community?
This is a congregation that is remarkably interconnected with the community, quietly doing things for others.
There are ecumenical services and activities - Harvest Thanksgiving, Easter, Christmas, the season of Whitsunday Pentecost. Sharing our stories and keeping the community aware of what we are doing - so that they feel a connection, even if they don't attend every Sunday.
We are energised by the sounds of young people in our congregation - we welcome toddlers and teenagers! A couple of musically talented high school students play beautifully for worship and we sing with joy as they play a multitude of instruments. A toddler singing along with her mum.
The dream of seeing us using our space where the church once stood gives the community hope that we are still here, that God is here, that our faith goes on and that a new Church building will appear to replace their beloved St James.
Where do you see God at work at the moment?
In hands and feet - there are many of God's people walking around, working with God. Jesus has walked beside us every step of the way with our fundraising campaign, put people in our path and made things possible. He gives us what we need - the people, the words, the help. We are blessed so often.
Are there any challenges you're facing there?
Just a couple! We need to raise $250k ...
Also, we are working hard to inspire more young people to follow the way of Jesus and share faith, hope and love.
What can the rest of the Church pray for there?
Please pray for God's favour over our fundraising campaign as we work to rebuild on that empty block in the heart of town. Pray that more young families are drawn to 3FJ and that our new Church will soon be ringing with the sounds of praise on that "no longer empty" corner block in the heart of Proserpine.
---
If you know a community with a great story to tell, contact us and nominate them to be featured.