President's Conference 2023
We are excited to invite you to be part of the 2023 President's Conference, to be hosted by Uniting Church President Rev Sharon Hollis from 26-29 July at Redcliffe Uniting Church, north of Brisbane.
**UPDATE: Please note the updated program. The Conference will take place in two parts: 26-28 July for ministry agents in a placement remains the same. The second part of the Conference for the whole church has been re-shaped into a condensed program from 28-29 July (There will be no Sunday program). A new day option for Saturday 29 July is now available! See details below.
---
Registration Fees (from 12 July)


Ministry Agents program - Wednesday to Saturday ($250AUD)
General Public program - Friday evening and Saturday ($150AUD)
General Public program - Saturday ONLY ($115AUD)
Both Ministry Agents & General Public program ($350AUD)
---
Cancellation Policy
More than three weeks before (by 5 July 2023): full refund less $25 administration fee
2 weeks before (6-12 July), 50% of registration fee refunded
One week before (13-19 July), 25% of the registration fee refunded
Less than a week before (20 July or later), no refund will be given
Registration can be transferred to another person before 19 July


* Conference fee includes conference meals (morning/afternoon teas, lunches, and dinner on Wednesday for Ministry Agents and/or dinner on Friday for General Public). All travel, transfers and accommodation are to be arranged and paid for by the attendees.
26-28 July: For ministry agents in a placement

Ministry in Precarious Times

The first part of the conference is an opportunity for ministers in a placement to connect and share with other colleagues and companions in ministry. Ministry right now can be tough and feel precarious. Many are facing challenges, with the added grief and change brought about by COVID-19. We'll reflect on how we can know God's call and presence in our ministry in this moment.
We are delighted to have input from poet, novelist and feminist theologian Rev Canon Dr Rachel Mann (pre-recorded) and Uniting Church minister from WA Rev Dr Cathie Lambert, a scholar of Beguine mystics and spiritual director. With worship, sharing and reflection, let's connect and refresh together as we support and resource one another to grow into our call as ministers.
*Ministry agents include anyone in an approved placement,
candidates for ministry and people in long term supply (longer than 6 months)
28-29 July: Open to the whole Uniting Church
All of this is us
We are excited to welcome Uniting Church biblical scholar Rev Dr Sally Douglas for this part of the conference, who will deliver two inspiring sessions on healthy communities of faith. Aboriginal Christian Leader Brooke Prentis will preach during morning worship. The President will interview Pastor Samantha McDonell from UnitingCare Queensland on the innovative Connect100 program. Hear about national ministry and mission of the Church from Assembly staff. Gather with others across the Uniting Church to worship, reflect and learn about our Church!
You can now register for the jam-packed Saturday program for just $115 (or $150 for Friday and Saturday).
Keynote speakers
The Rev Canon Dr Rachel Mann (via pre-recorded video)Rachel is a British Anglican priest, poet, novelist and feminist theologian. She is Area Dean of Bury and Rossendale. Her books include Love's Mystery: The Body, Grief, Precariousness and God; A Kingdom of Love, Dazzling Darkness and The Gospel of Eve
---
Rev Dr Cathie Lambert
Cathie is Education Co-ordinator (Ordained Ministries and PTH Principal) for Uniting Church Western Australia. She is a scholar of Beguine mystics and a spiritual director.
---
Rev Dr Sally Douglas
Sally is a Uniting Church Minister-scholar, ministering at Richmond Uniting Church and teaching at Pilgrim College. She is a biblical scholar and theologian. Her books include Church as Salt: Becoming the Community Jesus Speaks About and Jesus Sophia: Returning to Woman Wisdom in Bible, Practice and Prayer.
Do you want to be a volunteer?
We are looking for volunteers to help out at the conference for a number of different roles, including technical support and hands-on helpers (set-up, pack up, registration, prep for lunch etc). Volunteers will receive a discounted registration price for the conference. Click on this link to register your interest.
Getting There
The Redcliffe Peninsula is situated roughly 30 minutes north of Brisbane and is
easily accessible via Planes, Trains & Automobiles!
The nearest airport to Redcliffe is Brisbane (BNE):
25 minutes by car, 1h 25m by public transport (train and bus)
From Maroochydore Airport (MCY):
60 minutes by car, 3h 15m by public transport (bus and train)
REDCLIFFE PUBLIC TRANSPORT
Bus Route – Redcliffe – 310 to City, 690 to Sandgate
Take the train to Redcliffe – Sandgate, Petrie.
Catch an Airport Shuttle – A Stella Service 0458 778 846
Booking a Taxi – Phone 131 008 OR 131 924
There are many accommodation options near
Redcliffe Uniting Church (indicated by the red pin).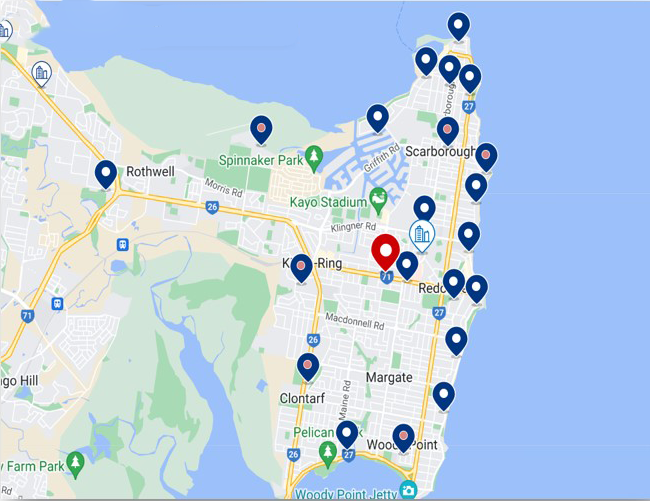 The following hotels have agreed to provide
President's Conference Guests with a special rate:
MON KOMO SUITES REDCLIFFE
have offered President Conference Guests a 15% discounts off the best flexible rates.
Click on this

link

and use code UNITING2023 to book.
VIDA ON ANZAC
Owner/Manager Mark Hooper has offered to provide
President's Conference Guests with a special rate if you contact him directly.
P: +61 7 3897 4700
E: info@lavidaonanzac.com.au


www.lavidaonanzac.com.au