"This is an opportunity for us to open your hearts again to what is at the core of the Uluru Statement – a gracious and generous invitation from the First Peoples of this country to walk together to a better future."
Subscribe to our newsletter
If you want to get the latest news from the Uniting Church in Australia then subscribe to our weekly newsletter delivered to your inbox.
In a historic collaboration, the Uniting Church has joined with other major religious traditions in setting aside this date to celebrate the wonderful opportunity for recognition and reconciliation offered by the landmark vote.
National religious groups first came together on 27 May 2022 to sign a Joint Resolution calling for bipartisan action to hold a Referendum on a First Nations Voice. Uniting Church President Rev Sharon Hollis was one of nine national faith leaders to endorse the Uluru Statement and its call for a Voice guaranteed by the Constitution.
As we approach the referendum, under this same alliance, communities of faith will again unite for a weekend of prayer, reflection and meditation which focuses on unity, reconciliation and healing.
Rev Hollis encouraged Uniting Church communities everywhere to take part in this national event which will unite people across different faiths and traditions.
"In the midst of what has been an extremely divisive debate, fuelled by messages of fear and hate, this is an extremely important and timely opportunity to stop and create spaces that make room for hope and unity," said Rev Hollis.
"I encourage Uniting Church people as they gather for worship on this weekend to take a moment to pray for and reflect upon the referendum."
"This is an opportunity for us to open your hearts again to what is at the core of the Uluru Statement – a gracious and generous invitation from the First Peoples of this country to walk together to a better future."
"As followers of Jesus, and as people of faith, may we open our hearts to this invitation for a more just and reconciled nation."
"This is also a time to hold in prayer First Nations people in this country who have been impacted by a torrent of negativity and racism."
Three things Uniting Church communities can do across the weekend:
Make time in your worship to pray and reflect on the referendum (Find prayer resources below)
Share information with your congregation about the Voice (the Uniting Church has this two-page explainer and other resources here)
Tell others about your gathering by sharing photos on your socials using the hashtag #weekendreflection. Email your photos to us and to weekendreflection@gmail.com.
The weekend's reflections will commence at 11am on Friday 8 September as representatives from Australia's Buddhist community embark on a 56-hour meditation, concluding on Sunday at 7pm.
Prayer resources
A Second Peoples Prayer for UAICC
Loving and Sustaining God,
We give thanks for the faithful cloud of witnesses we have in the UCA. We thank You for the way You have sustained, loved and been present with First Nations people since time immemorial. We thank You for the Aunties and Uncles who have cared for our Church and spoken Truth and Love into our lives. We thank You for the privilege of being in Covenantal relationships.
Loving God, we come together and pray for our siblings in the Uniting Aboriginal and Islander Christian Congress (UAICC). We pray for Leaders who are shouldering enormous loads. We hold in prayer the UAICC National Executive, Regional Congress, First Nations leaders working in our agencies and all Aboriginal and Torres Strait Islander peoples. We know, Loving God, the toll this referendum is having on them. We cannot begin to understand the pain of having their identity constantly challenged during the referendum debate. We ask for your healing love to surround those who are worn out and feeling rejected.
We thank you, God, for the Emerging Leaders of UAICC. We pray for those using their God-Given Voices working for Voice, for Treaty, and for Truth. We pray you hold them close, give them good rest and calm their minds so that Your words of Truth and Love may flow forth.
God of compassion, as Second Peoples we can be swift to speak. Soften our hearts and open our ears that we may walk together with gentleness. Clothe us in kindness that we may be tender-hearted with one another, mindful of our Covenant with our siblings in Christ, living with hope in relationship together. May we grow closer to each other in the Covenant, and in doing so, may we know You more.
In the Name of the One who leads us through the valleys, And gives us rest by the still waters,
Amen.
Written by Rev Richard Telfer and Rev Jenni Hughes
---
Why Say Yes
Proud Palawa woman from south east nations of lutruwita/Tasmania, Alison Overeem, offers this reflection on the whole campaign. Alison is the Advocate for the Walking Together as First and Second Peoples Circle. Artwork by Grace Williams, UAICC Tasmania.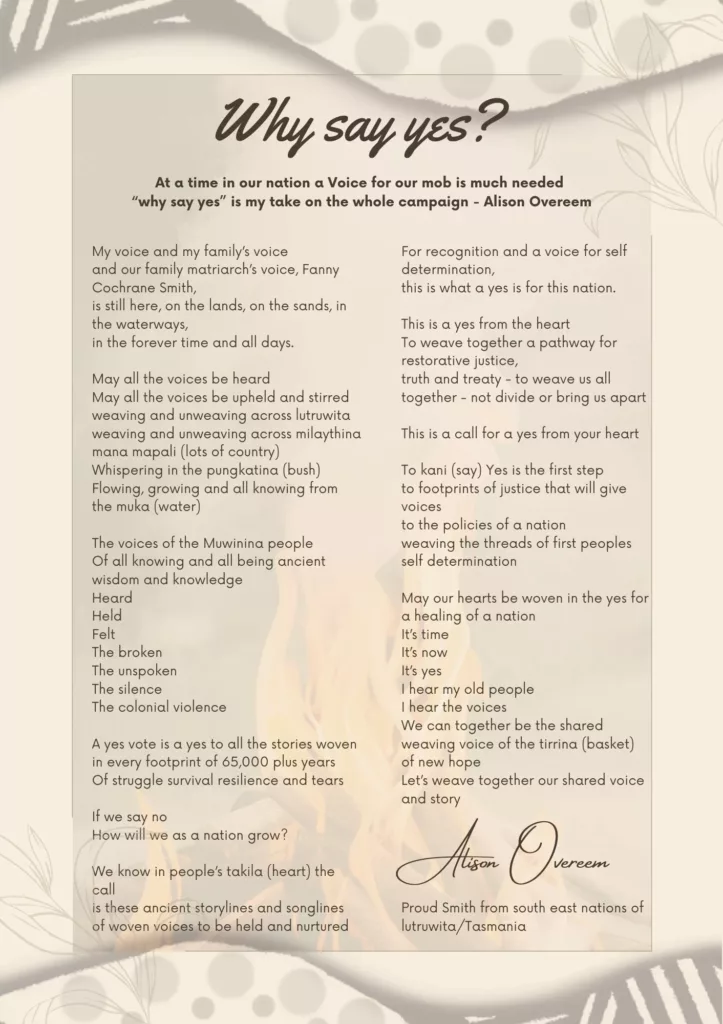 ---
National Aboriginal and Torres Strait Islander Catholic Council Voice Prayer
Dear Lord
We pray for a bright and just shared future for all who call Australia home.
We ask that Your grace of acceptance and compassion will guide us.
Let the Creator Spirit lead our journey with the
Aboriginal and Torres Strait Islander Peoples of this land.
May we share Your Spirit more deeply; celebrate the gifts You have given us.
Help us appreciate true harmony and peace just as our Old People did;
Keep us strong, make us resilient and remember us in this time.
Now is an opportunity to change our Nation's history for the better.
Walk with us as we write a new chapter together and
may we be one in Your love.
Amen.
Find the prayer and video on the NATSICC Voice website.
Paels 2023
Pacific Australian Emerging Leaders Summit 2023 Emerging leaders meet with the nation's decision-makers to advocate for justiceBy Raúl SugunananthanLast week, the Pacific Australian Emerging Leaders Summit (PAELS) met for a second year running. The Summit gathered 68 young people from the Pacific Islands, the Pacific diaspora living in Australia, Aboriginal and Torres Straight Islander communities,…