INTRODUCTION
Mark Kickett and Deidre Palmer
In this video series called Yarta Wandatha Rev. Dr Aunty Denise Champion shares stories of the Adnyamathanha people and their connection to the land.
Filmed on Adnyamathanha country in the Flinders Ranges of South Australia in 2016, Aunty Denise retells the stories she was told as a young girl. She describes the land as an "outdoor classroom" where she is reminded about law, culture and her identity as an Adnyamathanha woman.
CALLED BY GOD PRESIDENT'S CONFERENCE WEBINAR
As part of the recent President's Conference webinar "Called by God", Ps Mark Kickett, UAICC Interim National Chair, shares his personal story of being called by God, set within the context of his experience of racism in Australia. Fellow SA Congress leader Rhanee Tsetsakos shares on following God's call through her gifts of story-telling and writing.
A SAFE UNITING CHURCH FOR FIRST PEOPLES
Rev John Cox and Nina Mackenzie of the Uniting Church's National Safe Church Unit talk to Interim UAICC National Chairperson
Rev Mark Kickett about what being a Safe Church for all people means to him and other members of the UAICC.
FRONTIER SERVICES OUTBACK LINKS
Thanks to Frontier Services for this story about their dedicated Outback Links team walking together with Adnyamathanha people in SA as part of a project restoring sacred country.
WALKING TOGETHER ON COUNTRY
In January 2019, a group of 20 young UCA leaders joined a Walking on Country experience on the land of the Ngarrindjeri people around the Coorong in South Australia. They were welcomed by young SA Congress Leader Sean Weetra to his home community of Raukkan and heard stories of country from Ken Sumner, Uncle Clyde and Jordan Sumner.
We've asked some participants to look back on their Walking on Country experience through the 2020 NAIDOC theme Always Was, Always Will Be.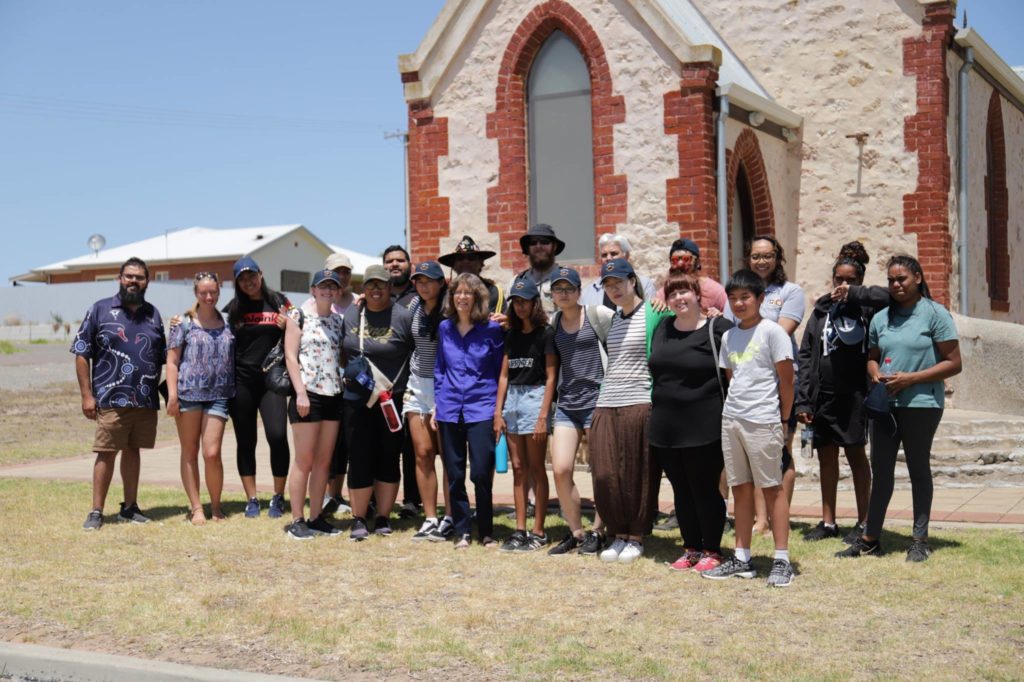 Olivia (second on the left) with the Walking on Country group outside Raukkan Church
My Walk on Country
By Olivia Freeman
My Walking on Country experience is something I will never forget. It was three days of learning and sharing with a community that welcomed us wholeheartedly. They shared stories of how their country was formed and how that ties into their faith in Jesus. We shared communion and praised our Lord in the church which is the heart of Raukkan. We had fellowship during meals, stories, and songs around a loungeroom which was filled with so much love and joy.
A highlight for me was listening to the dreamtime stories of the Ngarrindjeri people. The stories of how Tailem Bend got its name, why Lake Alexandria is where it is, and how the islands along the Murray River were created. As different Elders told these stories, it was obvious that they had been passed down from generation to generation and it was like we got to hear them as they were told many generations ago. These dreamtime stories really showed us how this land has always been and always will be theirs.
TALKING NAIDOC WEEK
Two NAIDOC Week conversations brought together Uniting Church members from across the country to hear from our First Peoples on the theme "Always Was, Always Will be". Read more about some of what we learnt.