Humans of the Uniting Church
Naomi Boulton
This year, we're excited to be featuring some of the inspirational people who make up the Uniting Church. Check out the growing hub of stories here.
If you know of someone with a great story to tell, contact us and nominate them to be featured.
This week we meet Naomi Boulton, Safe Church Program Coordinator with the National Council of Churches in Australia (NCCA), Mechanical and Biomedical Engineering Student at UNSW and member of Hope Uniting Church in Maroubra, NSW. Naomi recently served at the World Council of Churches (WCC) Central Committee meeting in Geneva in the role of a steward with other young people from across the world.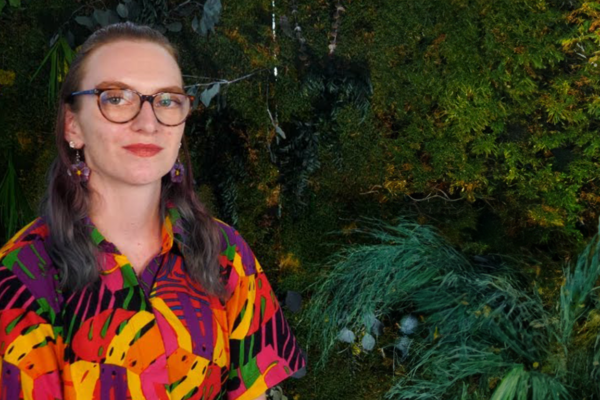 "I would like to see the global church amplify and truly listen to the voices of the youth."
Subscribe to our newsletter
If you want to get the latest news from the Uniting Church in Australia then subscribe to our weekly newsletter delivered to your inbox.
What's your Uniting Church story?
I grew up attending Pentecostal churches around Wollongong with my family. When I moved to Sydney to study at UNSW, I ended up moving into Corio House – the Student Accommodation connected to Hope Uniting Church in Maroubra. That was six and a half years ago now and I have been an active part of this amazing community ever since.
During this time, I joined Christian Students Uniting (CSU) where the connections with others and the Bible study discussions allowed me to deconstruct and delve deeper into my faith. I also had the privilege of being a Mission Worker for CSU for four years. So, the Uniting Church has significantly shaped my life, beliefs and theology over these foundational years as a young adult and I plan to continue to grow in faith, work towards justice and walk together in community, alongside my fellow Uniting Church members.
What enlivens your faith?
It is in the small, everyday moments and connections between people that I glimpse the presence of God. It is in witnessing or cultivating this that my faith is enlivened.
There is also something powerful about community joining together in worship, and I share a particular love of music as a form of worship.
What inspired you to apply for the Stewards Programme of the Youth Engagement office of the World Council of Churches (WCC)?
Through my role with the National Council of Churches in Australia (NCCA) and my experience within the Uniting Church, I have been exposed to both the wonders of ecumenism, and the strength, passion and capacity of youth to be leaders in bringing God's love to the world. When I heard about the WCC's Stewards Programme, I saw this as an opportunity to connect with other Youth Leaders around the world, learn more about the WCC, and gain insight into the practical elements of ecumenical work.
What exactly is the role of a steward?
The Stewards are the ones responsible for a lot of the practical, on-the-ground work that is required for the Central Committee meetings to function. We were split into four teams, each responsible for different aspects. For example, the Spiritual Life Team was involved in running the morning worship services, the Communications Team did work on media and conducted interviews, the Documentation Team ensured all the relevant documents and updates were available, in 4 languages and distributed throughout the meeting, and the Plenary Team (which Naomi was a part of) did all the work involved in the running of the actual meetings themselves – everything from setup, ensuring all members had working headsets (for translation), controlling PowerPoint presentations, cameras, and microphones, and recording speaker data.
What was one highlight from the meeting?
The best part of the meeting was the other Stewards! Working together, sharing stories and experiences, learning from one another, laughing, and spending all our time together. Getting to connect and engage with such an incredible group of young leaders is inspiring!
What's happening in your community that excites you?
There are so many things happening!! I am particularly excited to see all the youth-led endeavours of our First Nations and Pacific Island brothers and sisters. In the walk towards Reconciliation and the upcoming referendum, people are producing advocacy and educational content around The Voice to Parliament, such as the fantastic videos by Theo over at Voice Watch! https://fb.watch/lIkPKLYKEn/
What's one thing you love telling people about the UCA?
That we ordain women! As well as LGBTQ+ people. It may seem trivial to some, but this subject reveals a lot about how a community values (and unfortunately sometimes devalues) people.
What's one thing you'd like to change, or something you hope for?
I would like to see the global church amplify and truly listen to the voices of the youth. To stop treating us as the "future" of the church and instead embrace us as the passionate, capable, and extraordinary people of TODAY that we are.
---
Read more about Naomi's experience as a WCC steward in this reflection and scroll down to watch the interview she did with WCC.
Photos: (left) Naomi with UCA President Rev Sharon Hollis, a member of the WCC Central Committee and UCA member, Emily Evans, consensus consultant. (Right) Naomi with Bishop Dr Heinrich Bedford-Strohm, moderator of the World Council of Churches central committee and with other stewards at the WCC meeting (credit WCC).