Humans of the Uniting Church
Rev Lindsay Ginn
This year, we're excited to be featuring some of the inspirational people who make up the Uniting Church. Check out the growing hub of stories here.
If you know of someone with a great story to tell, contact us and nominate them to be featured.
This week we meet Pastor Lindsay Ginn, Frontier Services Bush Chaplain in the Goldfields region of WA from Kalgoorlie to Esperance.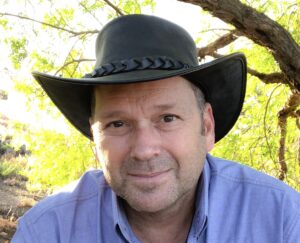 "I feel most at home worshipping God just sitting at the piano... It refreshes me; energises me and brings a stillness that soothes my soul."
Subscribe to our newsletter
If you want to get the latest news from the Uniting Church in Australia then subscribe to our weekly newsletter delivered to your inbox.
What's your Uniting Church story?
I first attended the Kalgoorlie Uniting Church to relieve their one and only piano player who needed a well-earned break. I agreed to go along for just three weeks so that she could go on a holiday. However, the congregation was such a welcoming and loving group that I stayed on after the third week... I'm still there now! Looking back, I can see that God's hand was in all of this and that He strategically positioned me there in readiness for the work I currently do with Frontier Services. I'm now in my fourth year serving in the Goldfields as a Bush Chaplain and I absolutely love what I do.
What enlivens your faith?
There are several things that enliven my faith but one of the biggest ones is music. I feel most at home worshipping God just sitting at the piano - perhaps writing a new song or just playing a song of praise or leading others in worship. It refreshes me; energises me and brings a stillness that soothes my soul. But my faith is also strengthened through reading the Bible, prayer and meeting each week with my church family. I always try to make the most of the time I spend travelling and so listen to Christian podcasts, audio books and of course... music!
What's one thing happening in your ministry that's really exciting for you?
A large part of my Patrol work is going into small remote schools and bringing them the gift of music. Before I started this work these schools had no music at all. I believe that music changes lives and is so beneficial to all who have the chance to learn it. Music certainly changed my life! I visit seven different schools every week: three Indigenous schools, two farming community schools, one school for troubled teenagers and one Catholic School. I'm based in Kalgoorlie but my territory extends out to Laverton and all the way down to Esperance. I'm very excited that this year, for the first time ever, these students will have the chance to sit official AMEB (Australian Music Examinations Board) exams for the Ukulele. My aim will be to make this a regular part of their education each year. Knowing how to play even three chords on an instrument can set a child on a life-changing journey. I'm also excited to be presenting suicide awareness workshops throughout my area. Like other areas, suicide is a huge problem here, especially amongst the youth and indigenous communities.
What's one thing you love telling people about the UCA?
I love the fact that the Uniting Church is an inclusive church where all are welcome and that it accepts people as they are. I love the fact that the church makes place for them to serve as they are, rather than 'expecting' them to change to fit a certain mold. I love the fact that the Uniting Church is bold enough to look at issues that others are quick to avoid.
What's one thing you'd like to change, or something you hope for?
That we could all live free of the expectations others place upon us. As I look back on my life I have, to a large degree, endeavoured to be what others think I should be and as a result limited what God wants to do in my life. Sometimes we place too much importance on the opinions of those around us and I think that is quite sad. Let us be who God is calling us to be and do what He wants us to do!
What's one thing you would like the rest of the Uniting Church to pray for?
Would you all kindly pray, not only for me, but also for the other Frontier Services Bush Chaplains dotted around the country as we carry on a much-needed, vital work in our different areas. There's no doubt about it, life's tough in the outback. Pray for safety as we travel, pray that God will give us wisdom as we encounter the different situations we do each week and pray that we'll all have physical, emotional and spiritual strength to continue on for many years to come. We all count it a huge honour to serve in this way and carry on the inspiring work that Rev John Flynn began so long ago.