Humans of the Uniting Church
Eileen Barnett
This year, we're excited to be featuring some of the inspirational people who make up the Uniting Church. Check out the growing hub of stories here.
If you know of someone with a great story to tell, contact us and nominate them to be featured.
This week as we mark National Volunteer Week we are highlighting some of the Uniting Church's dedicated and faithful volunteers. Meet tireless volunteer Eileen Barnett. Approaching her 80th birthday, Eileen worships with the Greswell and Rosanna congregations of the Banyule Network in Melbourne.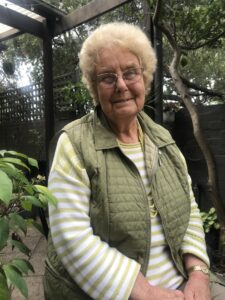 "I hope for willingness to embrace new ideas as the Uniting Church continues to evolve."
Subscribe to our newsletter
If you want to get the latest news from the Uniting Church in Australia then subscribe to our weekly newsletter delivered to your inbox.
What's your Uniting Church story?
I was born into the Presbyterian Church and like so many others travelled through Sunday School, PFA, church dances, the church tennis club and so much more – enjoying the fellowship and developing lifelong friendships. Marriage, parenting and the transition to the Uniting Church has provided opportunities to serve in many ways including Sunday School teaching, eldership, playing the organ, arranging flowers and through pastoral care.
In what ways do you volunteer?
I am part of the pastoral care team at my church. I volunteer weekly as a support worker with Court Network at the Broadmeadows Magistrates' Court. I am also a pianist for the weekly worship services at a local care facility and I am part of the team at Hope Springs, a Uniting Church Drop-in Centre for those with mental health challenges.
What enlivens your faith?
The chance to witness to God's all-encompassing love, and the loving support and encouragement from my family (including my immediate, wider and church family).
What's one thing happening in your community that's really exciting for you?
Our new minister is a breath of fresh air.
What's one thing you love telling people about the UCA?
The loving, supportive pastoral care.
What's one thing you'd like to change, or something you hope for?
I hope for willingness to embrace new ideas as the Uniting Church continues to evolve.
What's one thing you would like the rest of the Uniting Church to pray for?
An unblinkered approach to the Voice and our concerns for Aboriginal and Torres Strait Islander justice.