Humans of the Uniting Church
Rev Dona Spencer
This year, we're excited to be featuring some of the inspirational people who make up the Uniting Church. Check out the growing hub of stories here. If you know of someone with a great story to tell, contact us and nominate them to be featured.
---
This week we catch up with Rev Dona Spencer, Bush Chaplain in the Bottle Tree Remote Area which covers 250 kilometres in every direction from Roma in rural Queensland.
Image L-R: Rev Dona Spencer at her induction in early 2023 with Frontier Services National Director Rob Floyd and Bush Chaplain Pastor Joe Eka.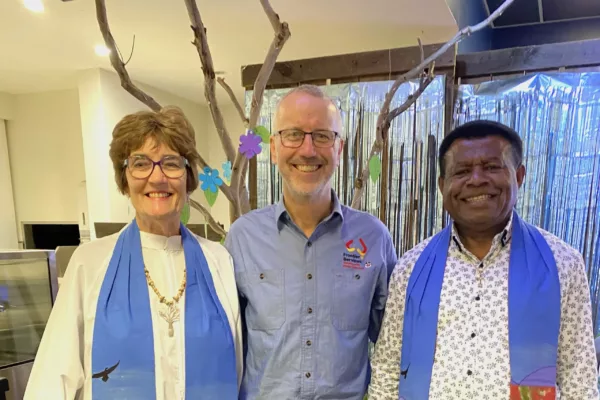 "It's exciting to be a messenger of the love of God for all people out here."
Subscribe to our newsletter
If you want to get the latest news from the Uniting Church in Australia then subscribe to our weekly newsletter delivered to your inbox.
What's your Uniting Church story?
I regularly attended Sunday School at the Methodist Church in Atherton, Far North Queensland, during my childhood. My faith was 'ignited' through Methodist Youth Fellowship as a teenager. As a small group we were very adventurous... camping by the river at Chillagoe, singing Christian songs around camp fires, exploring the Chillagoe caves etc. All these experiences helped shape my love of God, and His Creation.
What enlivens your faith in Jesus?
As an art teacher, my faith is enlivened through the practice of art, and creating art with others, whilst chatting about faith and life.
What's one thing you love about being a Bush Chaplain?
The wide open spaces, the changing landscapes, and the amazing people I meet out here.
What's something you've learned from people in the bush?
To ..."Take a teaspoon of cement in your coffee and toughen up". To be more patient, to slow down, and to really listen to others and their unique stories.
What's one thing happening in your ministry that's really exciting for you?
Engaging with the broader community. It's exciting to be a messenger of the love of God for all people out here. And, as I am still quite new to this ministry, to be responsive to where God is leading and to see what opens up.
What's one thing you love telling people about the Uniting Church?
Being part of the Uniting Church has taught me about grace.. the grace of God, and showing God's grace to all. The UCA tries to live this message through all her mission and ministries and I am proud to be part of the UCA for this reason, among others.
What's one thing you would like the rest of the Uniting Church to pray for?
Please pray for the people of the outback. Many feel forgotten by government, and health care agencies. May they know that God has not forgotten them. Pray for organisations like Frontier Services that we may continue to be God's voice and demonstrate his love for justice, and His care for those who are forgotten.