Humans of the Uniting Church
Bill Gerritsen
This year, we're excited to be featuring some of the inspirational people who make up the Uniting Church. Check out the growing hub of stories here.
If you know of someone with a great story to tell, contact us and nominate them to be featured.
This week meet Bill Gerritsen, a Frontier Services volunteer with Outback Links and active member of Wangaratta Uniting Church in northeast Victoria. Bill volunteers almost everywhere and has a great heart for helping others.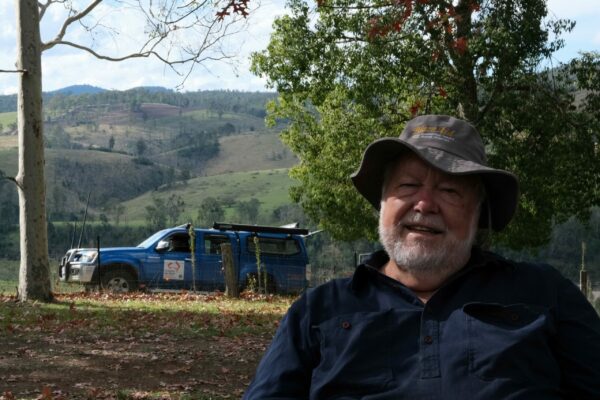 "I like to see people with a smile on their face because I may have done some small thing during the time we were together."
Subscribe to our newsletter
If you want to get the latest news from the Uniting Church in Australia then subscribe to our weekly newsletter delivered to your inbox.
What's your Uniting Church story?
I became a Uniting Church member just before Union and worshipped at Ashby Uniting Church in Geelong. From there I moved to East Geelong Uniting Church in Ormand Road East Geelong, where we lived. I was offered a job in northeast Victoria and my wife and two adopted children moved to Wangaratta, where we joined the Uniting Church. I am still a member there and on the church council. I run the Safe Church program for our congregation.
In what ways do you volunteer?
My main areas of volunteering over the last 35 years are; Scouting, school, sport, Rotary, L2P (mentoring young learner drivers to get the P plates so that we can all be safe on the roads) Church Council, Frontier Services Outback links program, Blaze Aid and Men's Shed. I help out at a Mainly Music program our church runs and help with technology for services. I am very involved in an evening service that is an alternate to the morning. My wife and I have become adopted grandparents for a young Filipino family in Wangaratta after they had experienced domestic violence. They have no other family here.
What enlivens your faith?
What enlivens my faith is when I'm asked about my latest trip with Frontier Services. This allows me to encourage members of my congregation and others to support Frontier Services with their donations and me with their prayers and their good wishes.
What's one thing happening in your community that's really exciting for you?
I like to help at the annual Wangaratta Festival of Jazz and Blues. I enjoy driving a small bus to either pick up artists from the airport in Albury as well as driving the public between the many venues around our town. It is nice to talk to these people who come from all over the country and all walks of life with all having similar interests in music.
What's one great thing about being a volunteer?
I like to see people with a smile on their face because I may have done some small thing during the time we were together. I sometimes get an invitation to something special in their lives that I may have been involved in or had a part in.
What's one thing you love telling people about the UCA?
While talking to friends and friends of friends, I tell them about the many ways that are open to them to volunteer with the Uniting Church, it gives them the opportunity to help someone by passing on their skills and talents so that they can benefit and make their lives more enjoyable. I like the style of worship in the UCA and the opportunity to be involved in different ways.
What's one thing you'd like to change, or something you hope for?
What I would like to see is that Australia become one nation so that volunteers that travel interstate no longer need to have Working With Children cards for each state they go into.
Hear more of Bill's story, his battle with cancer and getting back to volunteering in this video taken on a recent Outback Links trip with Frontier Services.