Humans of the Uniting Church
Rev Dr Amos Leana
This year, we're excited to be featuring some of the inspirational people who make up the Uniting Church. Check out the growing hub of stories here. If you know of someone with a great story to tell, contact us and nominate them to be featured.
---
This week we meet Rev Dr Amos Leana who was ordained as a Deacon in the Uniting Church in Australia in June.
Originally from the village of Gabagaba in the Central Province of Papua New Guinea, Amos experienced a strong call to work among First Nations people in Australia. He has served in ministry in the Kimberley region in WA, Walgett in NSW and is currently part of the Ministry and Theology teaching team at Nungalinya College in Darwin.
In a video filmed last year for the '40 Stories Project', Amos speaks about the privilege of working alongside Aboriginal and Torres Strait Islander peoples and witnessing their transformative experiences of faith.
"Coming from a society like Melanesia, where we have similar cultural beliefs to Indigenous people, as we worked together, we would find God's fingerprints in our cultures and see God at work in these Indigenous people."
"We listened to their stories and we would get those stories and try and make connections with the Gospel message, and we would see Christ really grow in the midst of us."
"Now serving at Nungalinya as a teacher, (I see) God is at work in your cultures. And God wants to use you, Indigenous people."
Nungalinya College is celebrating its 50th anniversary on Saturday 19 August. Formally supported by the Anglican, Uniting and Catholic churches of the Northern Territory, the college is a hub for the development of First Nations theology and ministry. Watch the video below from its Facebook page of the Yolŋu translation class in action.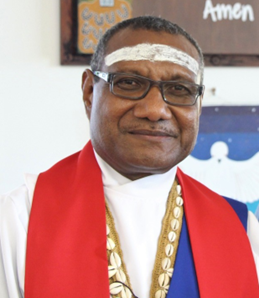 "One thing I hope for is to see more Indigenous teachers and where appropriate, work myself out of job."
Subscribe to our newsletter
If you want to get the latest news from the Uniting Church in Australia then subscribe to our weekly newsletter delivered to your inbox.
What's your Uniting Church story?
A strong desire to serve the Indigenous people led to my ministry work at the Kimberley and in northern NSW. In further pursuit of this calling, I joined the Nungalinya College's theology and ministry team in 2018 that eventually enabled me to join the Uniting Church Northern Synod. The church's acceptance resulted in my ordination as a Deacon. Since then, I continue to serve as a teacher in the theology and ministry program at the college.
Generally, the subjects I teach at the college include the Bible narrative (God's story), theology (Kingdom of God and Beliefs about God), leadership (leaders in the Bible and Leading like Jesus) and intercultural studies (Indigenous Expressions of Faith and Our CultureSstory).
What enlivens your faith?
Reading God's Word and living out what it teaches in obedience to Christ.
What's happening at Nungalinya College that excites you?
It is encouraging to see Indigenous students want to learn more about the Bible and grow their faith in Christ.
What's one thing you love telling people about the UCA?
Their acceptance and the opportunity they gave me to serve the Indigenous people through Nungalinya College.
What's one thing you'd like to change, or something you hope for?
One thing I hope for is to see more Indigenous teachers and where appropriate, work myself out of a job.
What's one thing you would like the rest of the Uniting Church to pray for?
Pray that I would remain faithful to my call.
---
Picture: Rev Dr Amos Leana at his ordination service held at Nungalinya College.