Each week during Lent, the Assembly will share a short reflection on themes that reflect both the Lenten season of preparing our hearts for Easter and the current season of the Uniting Church as together we reflect on how God is calling us to shape our lives.
Each week someone different from across the life of the Church will share a short reflection, a question to prompt further reflection and a short prayer.
The reflections are also available in audio form so that you can listen to them in your own time or share them with others during worship or small group.
We hope these reflections will inspire and nurture people in their journey of Lent and at the same time, in the context of the Act2 project, we hope it will open spaces for deeper reflection on what it means to walk with God through times of change and uncertainty, inspiring openness to new ways of being and living, as we consider the future of the Uniting Church.

2023 Assembly Lenten Reflections
Week 5 : Diverse Community
By Levon Kardashian,
read by Rev Dr Matagi Vilitama, from the Being a Multicultural Church Circle.
A diverse community is a community where each person is valued; each person brings the skills and gifts to their community; each person is open to listen to others speak out their voice. It is a space where people are courageous enough to say what is on their mind and what they are feeling.
A diverse community is a place where learning happens; where everyone learns from others, but nobody teaches others.
A diverse community is where we share our way of life with each other; where we can share our worldview without being judged.
A diverse community is not a safe place but a courageous place.
Bible Reading: John 11:1-45
In this story, when Mary, followed by the people come to where Jesus is, Jesus joins them in crying for Lazarus (v. 32-36). Jesus knew that Lazarus would live again. He knew that there was no reason to cry. He probably didn't even feel like crying. That is, until he saw Mary and the people crying.
I think what I have missed in my definition of community above is that a community is place where people share each other's feelings; it is a place where you laugh because others are laughing, you cry because others are crying. I guess Paul puts it in better words: "Rejoice with those who rejoice; mourn with those who mourn. Live in harmony with one another. Do not be proud but be willing to associate with people of low position. Do not be conceited. (Romans 12:15,16 NIV).
In this Lenten season, we are called not just to reflect and discern alone but also make time, space, and courage to add your unique being and gifts to our diverse communities. Consider being part of Christ's wonder-full body.
Let us learn about being a community from Jesus, who is, for us the reflection of the trinitarian nature of God.
The image below is a depiction of the Trinity by Andrei Rublev.
Spend some time reflecting on how this image reflects what a community is.
Prayer:
Help us move from the comfort of self to encounter being part of a complex and diverse community.
May we meet you in the 'cross'cultural messy space to share and grow in mutual love and compassion. Amen.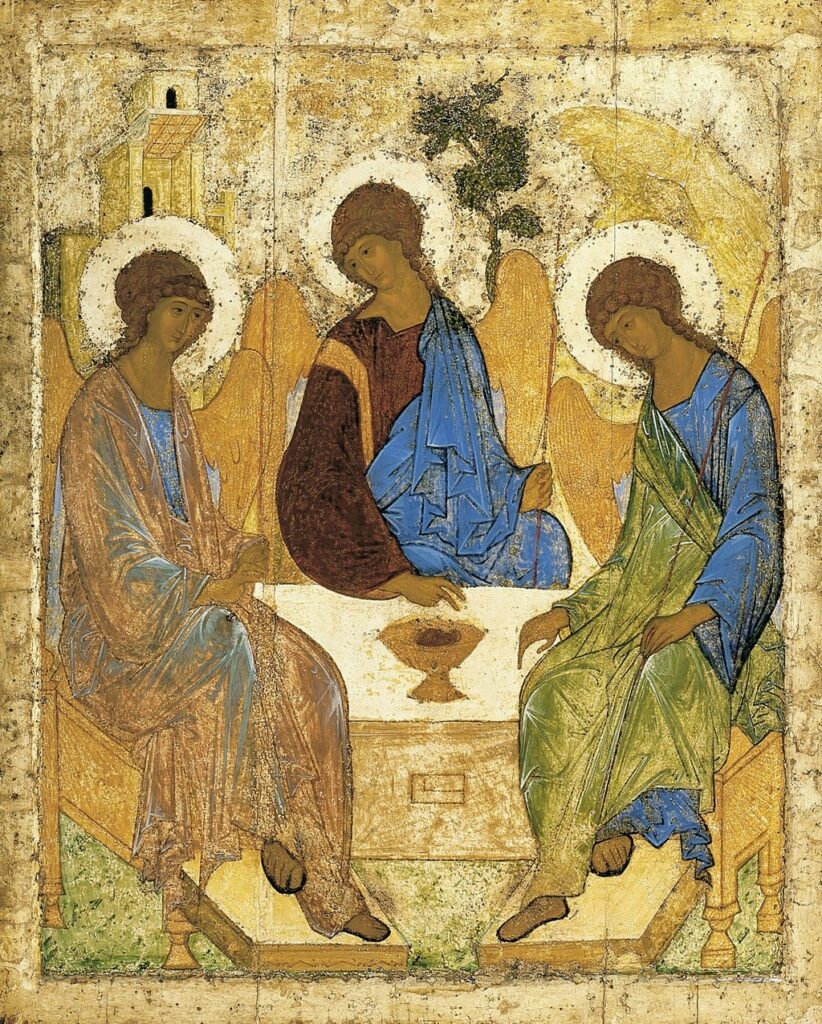 Subscribe to our newsletter
If you want to get the latest news from the Uniting Church in Australia then subscribe to our weekly newsletter delivered to your inbox.