Mission, fellowship and hospitality: FNC 2022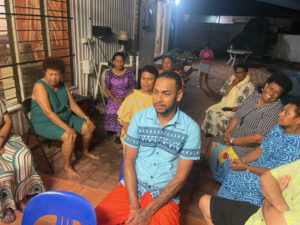 Image: Filipe Batiwale at the 2022 Fijian National Conference
Written by Filipe Batiwale
The 2022 Uniting Church in Australia Fiji National Conference (FNC) was held in Darwin from 29 September – 2 October. The theme was "Remember our past to shape our future."
As a youth attending the conference for the first time, it was an exciting opportunity to meet, collaborate and network with fellow Uniting Church youth members and leaders.
Reflecting on my time at FNC 2022, here are the highlights I took away:
1. There is a unique strength and benefit to conferences hosted by the local churches.
Darwin, a relatively small Fijian community, made a lasting impact as the host community. They raised the bar leaving the attendees in awe, with the organising committee having six mere months of planning to bring this event together.
1 Corinthians 12:14 was being witnessed here: "For the body is not one member, but many." This was eloquently demonstrated by the host team and its leaders, with the various local churches working together to make the event a success.
2. The conference addressed a great need for contemporary evangelism
The mission of the church is not a side issue any more than the Gospel of Jesus Christ is a side issue. And the mission is that which addresses humanity's greatest need. It's a big deal, especially for the Fiji Diaspora. Listening to the speakers and taking part in group discussions reinforced this theme, along with our theme, encouraging us to 'remember our past to shape the future'.
3. Worship during the conference was uplifted by excellent music.
Irene Drauna weaved a wonderful arrangement of worship songs throughout the sessions complimenting the respective sermons. Conference attendees were blessed with the hard work of the various choirs and cultural performances by the Fiji Parish Youth.
4. The total content was almost too much to take in.
I have attended many meaty conferences, and Fiji National Conference was no exception. Saturday of the conference felt like it was about three days, simply because of the amount and value of the content from the sessions, combined with the rich fellowship.
Overall, I recommend FNC to youths, Pacific Islanders, Fijians living in the Tasman, Pastors and lay people. It is a rich occasion for any church looking to equip both veteran and up-and-coming leaders, or, for any Christian looking to sharpen and inspire their approach to our great mission, en route to glory.
Images: Filipe Batiwale (top), Fijian National Conference (gallery)