By Gabby Cadenhead
My name is Gabby Cadenhead, and I am in my final year of a Bachelor of Music and Bachelor of Arts at the University of Sydney. I worship at Leichhardt Uniting Church.
Christian Students Uniting (CSU) is a community of university students on multiple campuses across Sydney and New South Wales united by a faith focused on justice. Our motto of "Keeping Faith, Doing Justice, Building Community" propels us into practical discipleship. We delve deeper into Scripture through weekly Bible studies, create community through social events (as well as student houses like Epworth and Corio) and we tackle justice issues by participating in public protests, campaigns and other actions. CSU has been involved in actions for climate justice, women's rights and welcoming refugees. We recently took part in a letter-writing campaign regarding Aboriginal deaths in custody, and many of our members have marched in Mardi Gras.
Justice is core to who we are as a student group, so when the Schools Strike for Climate took off across Australia and the world in 2019, we seized the opportunity to be involved. CSU established our own Climate Action Core, a group of student organisers whose mission was to organise the Uniting Church across Sydney to show up for the Global Climate Strike held in September last year. These organisers have taken CSU's justice focus and created lasting networks of students within the Uniting Church who are passionate about climate justice, as well as helping to bring both the state of our climate and the leadership of young people to the attention of the broader Uniting Church.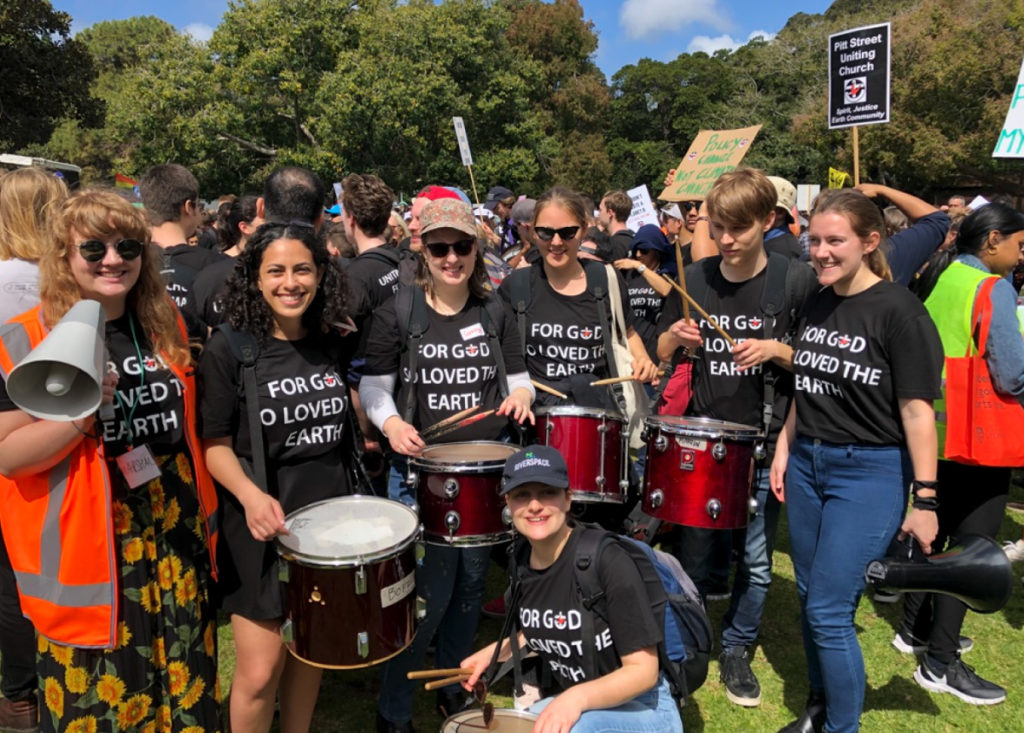 We at CSU care about climate action because our faith teaches us to care for God's good creation as gentle stewards. We have come to understand that the degradation of the environment due to climate change is also an issue of social justice. Communities who live in situations of poverty will be – and are being – hit hardest, amplifying disparities in wealth and their ramifications on health and quality of life. If we are to truly love our neighbour, we need a community response to rising sea levels and damaging fossil fuels. It is this passion for Keeping Faith, Doing Justice and Building Community that led to the founding of the CSU Climate Action Core.
In June 2019 at CSU's annual School of Discipleship conference, 30 students from universities across New South Wales came together and committed to marching for the Global Climate Strike on September 20, and to bringing the Uniting Church with them. CSU delegates then attended the NSW/ACT Synod the following July and took part in calling on Synod to support students and young people in their campaign for climate action. So, we set about organising, and from the original group of 30 students we eventually gathered over 300 people from the Uniting Church for the Sydney march on September 20 at Pitt St Uniting Church, where we gathered for worship.
Before we set off, Rev. Alimoni Taumoepeau preached a stirring sermon. I recall Rev. Taumoepeau exclaiming: "God gave me—and us all—the responsibility to take care of this world, not to destroy it." We worshipped together and took communion together, before taking to the streets to join the other 80,000 people gathered at the Domain. With our drumming core in the lead, we carried banners and placards, and chanted alongside marchers from countless organisations, faith groups and university campuses. It was an important moment for Australia and for the world, full of hope, and we were a small but not insignificant part of it.
After the Climate Strike, we did not want to lose the momentum we had worked so hard to put in motion. We watched as Australia burned over that horrendous summer, and we began to plan. But with the arrival of COVID-19 on our shores, many of those plans came to an abrupt halt. For the first few months of lockdown, none of us had energy for organising, but we gradually began to meet again over Zoom. We had to adapt. We decided that, while 80,000 people in the Domain is not feasible in 2020, we can utilise the technology we have so quickly learned to use in our daily lives to host an online event. On August 30 between 2pm and 4pm, CSU will present our very own Climate Fest via Facebook, featuring tutorials for sustainable living practices such as beekeeping and gardening alongside performances of music and poetry. As CSU organiser Sybil Mendonca says, "When COVID-19 started everything else stopped, and this Climate Fest is creating small ways we can re-engage with climate action."
The central goal of the Climate Fest is to encourage people in the Uniting Church to change their practices to live more sustainably. We aim to inspire hope in those who attend that young people are living more sustainably, and to reinforce a culture of care for the planet. Our presenters will demonstrate achievable and approachable actions that attendees can partake in and encourage those who tune in to reflect on their current lifestyle practices, as well as make connections between the faith formation of young people and care for creation through climate action. This event will connect attendees to existing CSU and Uniting Church networks that will continue to encourage each other in sustainable living beyond the Climate Fest.
According to CSU organiser Elissa Sugunananthan, "The CSU climate festival is a space for giving – to the earth and to each other. It is an opportunity to come together and share our passion for a just climate future. Our knowledge and ideas, the tools for everyday climate activism – they are our gifts to share."
We hope you will join us on August 30 as we, the young leaders of the Uniting Church, continue to grapple with the relationship between climate action, faith and our daily living practices in this uncertain time.
---
Find out about and join the event here: https://www.facebook.com/events/1215230392151241/