Building Bridges Between Faiths
A coalition of young adults from different religions has launched a new charter of principles and commitments for how we live together as people of different faiths.
Ps Joyce Tangi has been the Uniting Church representative on the executive committee of Youth PoWR (Parliament of the World's Religions) which includes young people from Baha'i, Buddhist, Christian, Hindu, Jewish, Muslim, Sikh traditions.
The young leaders based in NSW spent two years in conversation, hosting roundtables, consultations and workshops to develop The Sydney Statement.
The intention for the Statement is to provide a universal framework for people to build bridges between religions in our communities, wherever they might be.
Joyce said being a part of the project had been inspiring.
"For me, sitting in our meetings with other young people of diverse faiths and multicultural backgrounds, has been humbling to say the least. In those conversations I've experienced honesty, shared humanity and shared compassion for the journey of others."
Joyce said like the Uniting Church, the statement valued the leadership of young people.
"Jesus teaches us that young voices are important and everyone is loved, no matter what religion they come from," said Joyce.
People are encouraged to show their support of the statement by signing on to its principles and commitments. The website includes an extensive collection of interfaith resources to help people get started.
Seeking Common Ground Advocate Rev Dr Amelia Koh Butler was on the steering committee for the Statement during her time as Parramatta Mission's Multifaith Chaplain to Western Sydney University.
She describes the statement as "a visionary compilation and distillation of the vision for a peaceful and just society that young adults in Sydney share".
"Working together, young adults of different faith traditions brought their faith and religious experiences and understandings, talking about why they felt different aspects of community life and development were important," said Amelia.
"It gave them an opportunity to witness to the importance of religious belief and spirituality in their lives."
Amelia said the Statement did not single out a dominant voice, but focused on what young people of different religions were working on together.
"The Statement presumes we share in responsibility for our future rather than being conditioned by past isolationism."
"From a Christian perspective, I felt we were a step closer to 'every tongue and every tribe', being able to hold space together. Working on The Sydney Statement was, in itself, an act of peacemaking and walking the way of Jesus."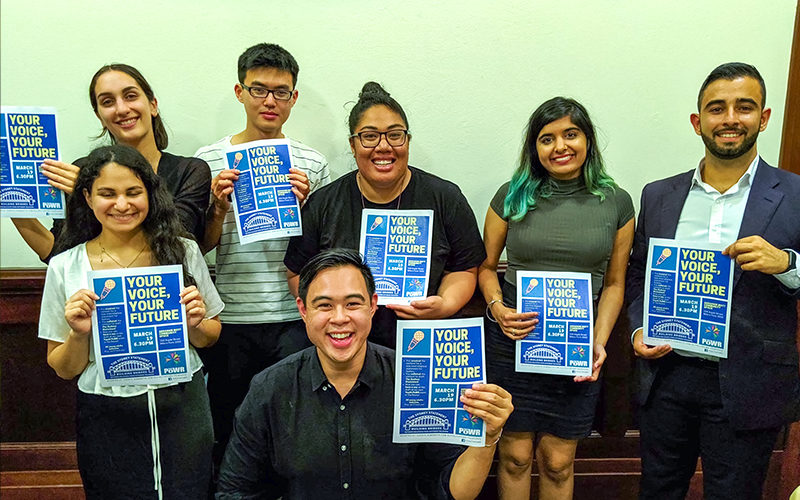 PHOTOS: Top - Young people gather for a Youth PoWR event in 2019 which featured a singing performance from the combined UCA Northern Beaches Youth Groups. Above - Members of the Youth PoWR executive working together ahead of the Sydney Statement release.