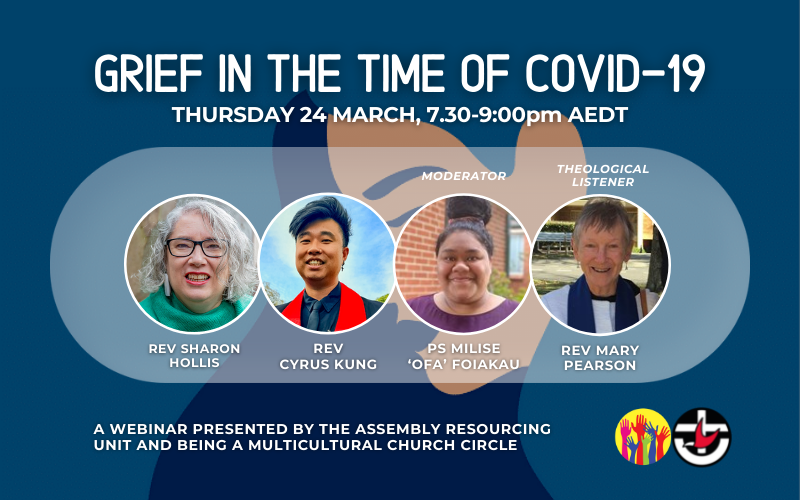 PLEASE NOTE THIS WEBINAR HAS BEEN POSTPONED. Stay tuned for updates.
Join the Assembly Resourcing Unit and the Being a Multicultural Church Circle for the first webinar of 2022.
Our panel will explore the experience of grief in the time of the COVID-19 pandemic from their own perspectives, faith lives and cultural contexts.
The webinar will take place on Thursday 24 March, 7:30-9pm AEDT.
Our speakers will include:
Panellists:
Rev Sharon Hollis
Rev Cyrus Kung
Theological Listener: Rev Mary Pearson
Moderator: Ps Milise 'Ofa' Foiakau
Meet the panel members below
Rev Sharon Hollis
Sharon has been a Minister of the Word since 1994, and is the current President of the Uniting Church Assembly. She worships at Wesley Lonsdale St in Naarm (Melbourne) and has served in many roles in the Synod of Vic/Tas: congregational minister, Continuing Education Coordinator, Moderator, and Resource Minister in the Culture of Safety Unit. She has been a member of numerous Synod and Assembly committees and ecumenical dialogues. The theme Sharon has chosen for her three years as President is Dwelling in Love which reflects her belief that we are held constantly in God's love and this gives us the courage and grace to enable us to face challenges with love and transformation.
Rev Cyrus Kung
Cyrus is a Second Generation Hong Kong Australian and ordained Minister in the Uniting Church. He is passionate about seeing people connect with the deeper parts of themselves whilst exploring the simplicity of Christ in the complexities of life in the 21st century. Creativity, third spaces, liminality, in-between-ness and hybridity shapes much of his approach to ministry and community life in his local context. Cyrus is currently one of the ministers at CityView Uniting Church in Adelaide.
Ps Milise 'Ofa' Foiaka
Moderator
Ofa is a Fijian-born Australian and has been a member of the Leigh Fijian Congregation of Parramatta Mission since arriving to Australia in 2000. Ofa is in the PULSE team in the Synod of NSW/ACT and is passionate about her work with young people.
Rev Mary Pearson
Theological Listener
Mary came from Scotland, via New Zealand to Australia, so she has three nationalities, and, really, three different lives. She has been a teacher of deaf children, part of the resident group at Iona Abbey, worked in a Save the Children Fund project in an Edinburgh slum where she also lived in a small Christian community, and trained as a counsellor. She emigrated to New Zealand and was accepted for ministry training but moved to Sydney and became a candidate in the Uniting Church. She was ordained in 2000 and was minister in a congregation in Parramatta for 7 years, then a mental health chaplain for 8 years. She has done supply ministry, trained as a pastoral supervisor, and is now a supervisor trainer. She is yet to discover what retirement is.